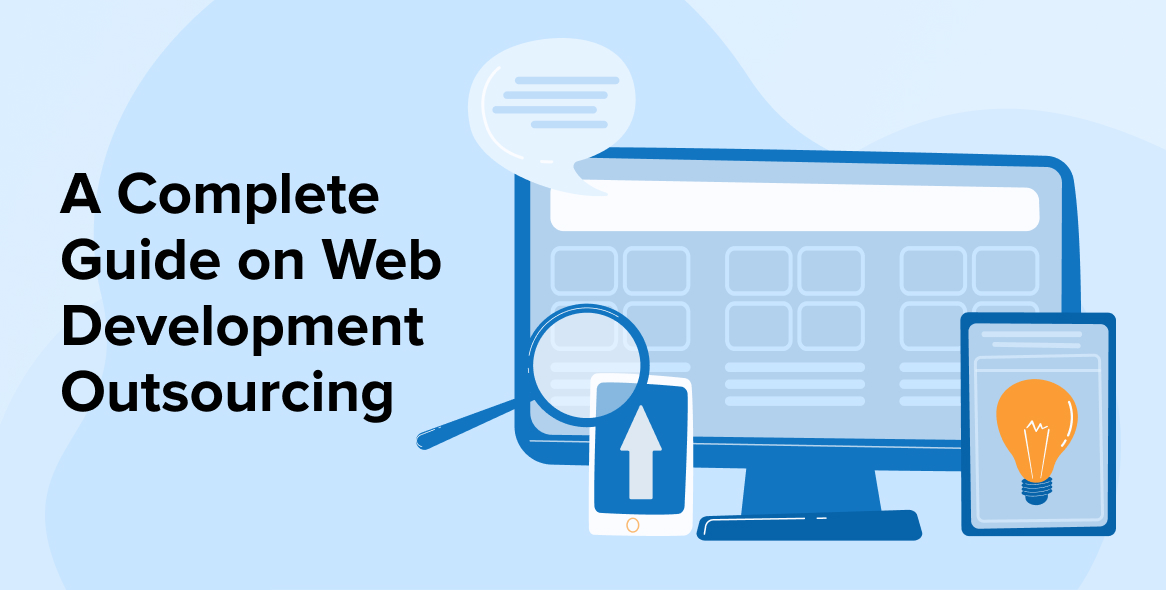 Creating a first-rate software application takes a lot of time, money, and effort, and your venture may call for a dedicated team of web developers. Do technical experts need to be brought in to ensure that your plan is carried out successfully? You may avoid this by contracting out for web development services to an IT outsourcing company. In the absence of extensive time, personnel, and material resources, as well as a lack of technical expertise and experience etc., this model is a good match. Web development outsourcing is the optimal solution in all these circumstances. Less money is spent on the web development process when it is outsourced to overseas web developers, and more offshore developers are available whenever they are needed compared to developers that are available locally.
Outsourcing web development projects may be challenging if you don't have a prior knowledge of the concept and its process. This blog post is compiled to shed light on these questions by providing further information on web development outsourcing.
1. Reasons to Outsource Web Development Services
There are several examples of web apps that began as small businesses but grew into massive corporations. Their success may be partially attributed to their use of outsourced software development teams, and more specifically, web development outsourcing companies, to handle an expanding amount of technical and other activities on their behalf.
You should consider outsource web development projects for the following main reasons:
1.1 Cost Savings
It can be your most cost-effective option if you outsource the web development. Freelance, in-state, or international web developers are all more cost-effective than building your own in-house staff. This might save you 20%-70% of the total cost, based on where you live.
It's easy to see if you compare! A web developer in the United States may expect to make between $100 and $150 hourly, with a yearly income of $76,000. Meanwhile, in Eastern Europe like Ukraine, a similarly skilled engineer might expect to earn $30-$50 hourly.
1.2 Focus on Key Business Activities
After you've given the go-ahead on every aspect of a software development outsourcing project, all that's left to do is approve the actual work that's being done.
Expert agencies always keep their customers updated. It's designed to serve as a reference for the duration of the time you spend working with an outsourcing website development company to build your website.
You'll have more time on your hands to focus on the meat and potatoes of running your company. Instead, focus on core business operations, branding, selling, and working together with your important partners.
1.3 Access to Top-Notch Web Developers
Web development agencies that provide outsourcing services remain competitive and focus on building teams of highly skilled experts capable of producing exceptional work. You may probably find a group of real experts to work for you if you check over their testimonials, references, and previous projects. We'll go into further depth on where to look and what to look for in a team eventually.
1.4 Quicker Process Organization & Development Speed
It's safe to say that you would also agree, in the digital age, speed is everything. Because of this, it's crucial to secure a leading market position as soon as feasible. If you decide to outsource web design & development, you can expect to work with an outsourced team of web developers and a project manager at the outset. As a result, you are able to streamline the software development process and keep your online project on track to fulfill its deadline.
But if you want to build your own in-house team of web developers, things will move at a far slower pace. You'll be responsible for coordinating the company's human resources functions, including recruitment and onboarding, compensation and benefits, time off, and more.
Comparatively, outsourcing web development is more efficient in terms of time and money.
1.5 Scalability of Your Web Project
The use of a distributed outsourcing team of developers can help a project grow more quickly. Your first step should be to create a minimum viable product (MVP) for your web app, after which you may gather user input and decide whether to expand or change course. For instance, while you may require designers, engineers, and project managers in the outset of development when a significant amount of work has to be accomplished, you may only require a few developers for upkeep. Further labour is required once again if a course correction is required. It would be more difficult to match available resources with the number of employees needed if you were to develop the products in-house.
2. How to Outsource Web Development: A Step-By-Step Guide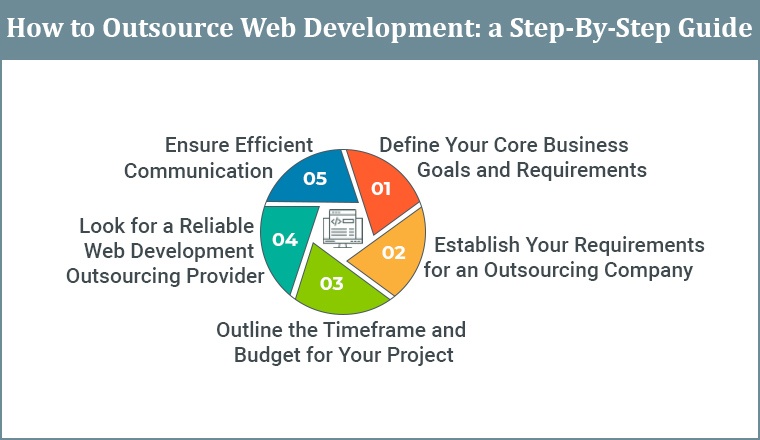 Finally, the methods below will help you outsource web development process quickly and efficiently:
2.1 Define Your Core Business Goals and Requirements
Defining your company's objectives is necessary prior to initiating contact with a web outsourcing team. There is no outsourcing firm that can assist you if you do not have defined business objectives and proper project documentation. Therefore, align them properly.
The most important things to think about when hiring a web development team remotely are:
Outline the big picture of your site design.
Explain what needs to be accomplished and how the technical aspects will be addressed.
Plan how much money you can allocate to it.
2.2 Clarify Your Project Requirements to Outsourcing Company
In order to find the right outsourcing partner to help you put your plan into action, you must first have a clear picture of what you're looking into. Create a prioritized list of the qualities that are most important to you. Some of these factors may include the individual's level of relevant work experience, the business's reputation and ethics, the employee's geographic location, and the hourly wage.
Main criteria can help you narrow down potential prospects and settle on the best hires for the position. It may be, for example, an offshore web development organization that has expertise creating academic web platforms and is also working toward economic sustainability and ecological friendliness.
2.3 Outline the Timeframe and Budget for Your Entire Project
The money obtainable for any project has a direct bearing on its complexities, as well as the selection of a website development outsourcing firm. This post will continue with a discussion of web development pricing.
As for the schedule, you will not be able to determine an accurate release date until the development team has been identified. Nevertheless, an approximation of the project's duration depending on its technical needs may also impact your selection of outsourcing business. Those with greater expertise and superior experts are more willing to accomplish strict deadlines and quickly offer the needed outcomes.
2.4 Look for a Reliable Web Development Outsourcing Provider
After determining what is required from a commercial and technical perspective, the following step is to select an outsourcing website development partner for the business. You should then assess this service provider to decide if they can assist you.
While selecting a reliable development company for outsourcing needs, pay close interest to the following:
Work Experience
Projects in Which They Excel
Reviews on The Outsourcing Company from Previous Clients
Their Website and Social Media
Do not select the first firm simply because they have pledged to perform their best. A truly qualified web development agency would agree on every aspect, become familiar with the project's spirit, and then accept the assignment. They do this so they may comprehend the work's breadth and complexities and deliver the ideal web project.
Creating an outsourcing non disclosure agreement is among the most fundamental tasks. Specify financing, scheduling, timelines, pay rates, and other terms.
2.5 Communicate Effectively
Communication is the most critical aspect of any project outsourcing. Address time zone variations, cultural differences, shift patterns, and festivities in order to accommodate both parties.
Due to the fact that you exist in an internet age with communication technologies such as Slack, Telegram, and WhatsApp, it is feasible to optimize the information exchange. Additionally, you may manage all project work with the following tools:
InVision for website design assessment
JIRA for project management
Harvest for billing and time tracking
GitHub and GitLab for management of source code
Confluence
Dropbox
In reputable web development outsourcing firms, the Project Manager is assigned to oversee all work performed on your contract and provide you with frequent updates. Customer input is extremely useful in project development.
In need to get the operation off on the proper foot, it is suggested that you conduct regular meetings at the outset. As per the Scrum software development framework, the team sets the scope of the project at the start of every development sprint.
The workgroup then gathers daily to coordinate work across all domains via meeting. At the conclusion of each session, the team displays to the customer or stakeholder the progress made and the results of the sprint. Then, comments are collected, sprint outcomes are reviewed, and the workflow is enhanced with retrospective meetings. Sprints will persist until the team releases the finished version. When Scrum is not a good fit for a team, the Kanban technique is sometimes implemented with customized practices and a meeting agenda.
In addition, after the operating principle has been fine-tuned, you only need to maintain track of the team's performance and provide comments. Note that outsourcing web development seldom yields the intended outcomes without effective communication.
3. Prices for Outsource Web Project in Different Countries
Numerous variables might make it challenging to precisely estimate the total expense of a website development project that you intend to outsource. Some of them are:
The amount of professionals participating
The duration necessary for development
Hourly rate of the business you select
Based on the geography of a web development outsourcing firm, this last aspect may differ. Now that we're discussing hourly rates, the notion that the majority of first-rate IT experts are from the United States is swiftly fading.
As of now, web developers from Eastern Europe and Asia are rising to prominence and gaining the favor of business owners worldwide. In addition, these locations provide IT specialists for 30% less than the average hourly wage in North America. Nonetheless, according to studies conducted by HackerRank, cheaper IT engineers from Asia and Eastern Europe do not provide inferior service.
Eastern Europe:
In Eastern Europe, the typical hourly pricing for outsourcing web development services is between $30 and $70. The web developer fees vary little in comparison to the national average. Ukraine ranges from $25 to $75, Poland from $35 to $85, and Romania from $30 to $75. Brazil from $50 to $120, Argentina from $40 to $100, and Mexico from $40 to $110 are the countries with the highest hourly costs for outsourced web development, respectively.
Asia:
The typical labor rate of outsourcing software development in Asia is between $30 and $60. China offers between $35 to $60. The hourly price of outsourcing software development to India ranges from $20 to $70. Malaysia charges between $35 to $60 per hour.
North America:
As the most costly location, hourly fees in North America range between $150 and $200. The United States and Canada charge respectively $150-$215 and $135-$190.
It is evident that Asian nations can provide cost-efficient solutions, but time and cultural barriers might impede successful communication and cooperation. Latin America is the best option in terms of cultural similarity and minute-by-minute different time zones. Nevertheless, web development costs in this location are significantly higher than usual. The same holds true for North America. The region's increasing costs are not greater than the high level of IT specialists and openness to diverse new methods.
4. Where to Find a Web Development Outsourcing Company
There are a variety of search sites for outsourcing development companies. Here, we've compiled a list of the most useful and interesting websites utilized by many customers.
All of these platforms use a unique categorization strategy. Some emphasis on the credibility of web development outsourcing firms, as well as the rankings, recommendations, and competence of their patrons. Others display the catalogs of web design and development teams or independent contractors. You can peruse these platforms and select the strategy that best fits you.
4.1 Clutch
Clutch is a ranking and reviewing website for IT and other firms. It has its own grading system based on the following five primary criteria:
Level of proficiency
Customer devotion based on testimonials
Honors and time spent on the marketplace
Diversity of services
Costs
Clutch provides a complimentary service known as the Matchmaking Program. Using this tool, you may exchange information about your web development project, submit technical jobs, and obtain bids from outsourcing firms who are prepared to embark on the assignment.
4.2 Good Firms
GoodFirms provides you with 6,000+ services and software companies and 9,000+ verified feedback with almost 600 approved questionnaires. It is a free platform for recruiting the top candidates and offering IT outsourcing company ratings. GoodFirms offers a directory of software development firms specialized in smartphone apps, web development services, eCommerce website construction, blockchain developments, and many other services.
GoodFirms collaborates not only with businesses as well as their clientele by soliciting interactive feedback on an IT vendor. It is advantageous for both parties: businesses may market themselves on GoodFirms by displaying their profile. The clients may then pick a trustworthy provider to outsource their web development jobs.
4.3 Upwork
Upwork is among the largest freelance marketplaces that links companies with independent IT professionals and agencies. Differentiating characteristics of the Upwork methodology include:
A range of filters that assist in locating the ideal specialist.
Concentration on client reviews.
In addition, Upwork management might choose an expert for you based on your specifications without your participation.
5. Conclusion
Finding a dependable outsourcing partner for web design and development is not a simple undertaking. Nevertheless, we hope that this guide will aid you in preventing such pitfalls, negotiating an agreement with a respectable outsourcing company, and executing your web development project smoothly.
TatvaSoft can gladly design a customized online solution for your business, non-profit organization, or startup. Contact us, and our staff will set up a session to explore your concept and possible implementation strategies.