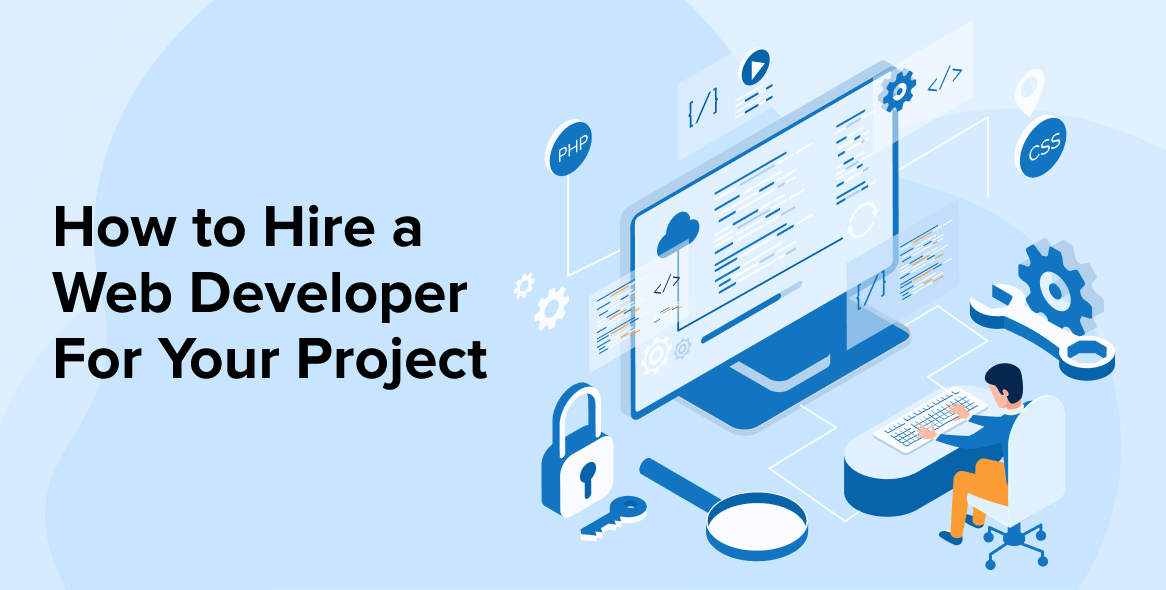 Companies in the digital space require skilled developers to provide customers with custom web application development services that can't be matched with anyone else in the competitive market. But it may be difficult, inefficient, and time-consuming to hire qualified IT professionals. This article will walk you over the steps of "How To Hire A Web Developer", from the fundamentals to the things to consider while shortlisting the web developers.
1. How to Hire A Web Developer?
There are many major factors to think about when hiring a web application developer. If you're looking to recruit web developers for a project of any kind, from the somewhat modest to the really large, you should keep the following in mind.
1.1 Size and Scope of Project
Without understanding the scope and objectives of your web development project, it is difficult to provide clear advice on which web developers will be the greatest fit. At the outset of your search, you must choose the type of web development project you want a professional for:
A simple web project covers the creation of a basic website or the adding of new functionality to a current one. These elements may include a contact form, a call-to-action button, a fresh layout design, a subscribe button, etc.
Medium-sized web projects involve the construction of either static or dynamic web applications, online storefronts, and other services that need the integration of third-party services such as CRM, CMS, databases, chatbots, and APIs, among others.
Large-scale online initiatives include video-sharing social media apps and social platforms that necessitate integration with cloud hosting servers to keep all of their user information.
Other operations also exist since project scope and circumstances might differ.
1.2 Fix A Work Model
After determining the size and scope of the development project, you can select the best hiring model.
1.2.1 Effective Business Through Dedicated Team
Rather than employing web developers full-time, you can outsource the work under this strategy.
If the website needs advanced features like AI Chatbot creation or cloud storage integration, this framework is a great option. Yet, time and money savings are required.
To create a web application from the ground up, you can employ a web development firm to use its technological and administrative know-how.
With the support of your in-house staff playing the role of project manager, you can keep tabs on the project's progress.
1.2.2 The Business Model of an Outsourced or Extended Team
Adding an expert through web development outsourcing service can help the team accomplish more.
A manager, authors, and designers from an in-house team can work in tandem with the web developers you employ in this fashion.
If you currently have a small team of experts and only need another two to five, this is the ideal option.
You will be accountable for monitoring progress, allocating work, and coordinating with remote web developers as a part of the extended team.
1.2.3 The Project-based Model
The technique is often adopted by both established and new firms when they are working on a small web development project.
Timelines and budgets are set in stone in this structure. You can hire a web developer on a project basis. They'll stay on the job till the web app is finished being developed.
The development team is responsible for all project administration and the adoption of technology solutions. All the weight of the company is on the shoulders of the development team in such a setup.
1.3 Searching For Web Development Company
Think of it as employing a technology partner for your business rather than just a coder while searching for a developer. Take caution while searching for a web development agency, freelancer, or full-time employee.
When looking to staff a web development team, you'll need to take a somewhat different approach. Following are some online resources where you may learn more about it:
1.3.1 Google
You can use Google for searching reputed Website of Development Company.
1.3.2 Tech Blogs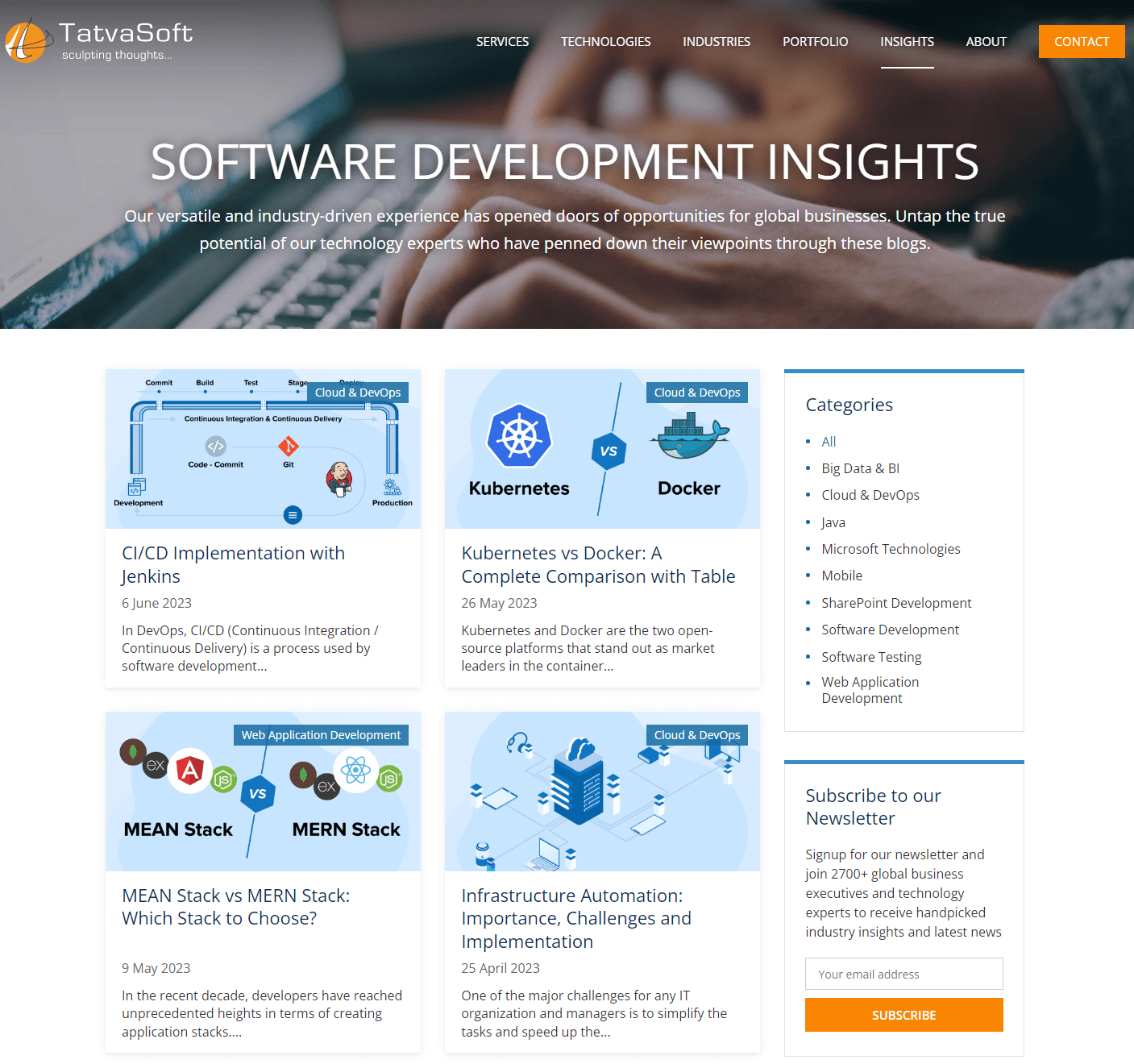 Companies occasionally provide articles with helpful technological advice for the general public. You can seek help from those who are actually specialists in the field of web building. Do not be shy about reaching out to the authors of any tech blogs or articles that you find particularly interesting or helpful for your company.
1.3.3 Clutch

Clutch is a business-to-business (B2B) review website where many users discuss their experiences with various software development firms. There's a star rating system and many search options on this website. As a result, you may not only locate a competent web application development company but also form an opinion on its strengths and weaknesses.
1.4 Shortlist and Test Developing Skills
There are many ways to shortlist and test developing skills of the candidates. Here are a few of the options:
Choose a developer with the right set of talent and expertise by looking at their resume. Their resume will provide you with a first impression of their capabilities.
Once you have shortlisted the resumes, you may schedule a personal interview to observe their skills closely.
Another option is to provide a written questionnaire in response to their application.
Having a trial run with your new web developer is crucial if you have large projects or long term deals. You should not be tied down to an employee who is incapable of delivering the products, who is not a good cultural match for your business, or who is not willing to put in the time and effort necessary to succeed.
Have Them to work on a smaller portion of your business or website before committing to them fully. This will help you to qualify their work-spirit.
It is important to keep an eye on how they respond to directions, how well they organize their work, how well they connect with others, and how well they do their actual task.
1.5 Evaluate Performance
You should check candidates' prior work as an aspect of your selection process.
A brief review of a candidate's portfolio will reveal whether or not their prior experience is applicable to your current endeavor.
Have a look at their prior work and any code samples they have posted on Github.
While viewing a developer's portfolio might provide valuable knowledge, it may lack the full picture.
It's possible for a developer to hand up a product that looks and feels excellent to them, but which falls short of what was intended for the project.
This highlights the significance of reading reviews left by the developer's prior customers to ascertain if they were content with the results.
Feedback from previous clients is illuminating not only in terms of a candidate's development talents, but also in terms of their interaction, timekeeping, and responsiveness to criticism.
Although references can sometimes be written from the perspective of the creator, these assessments are typically more informative.
1.6 Select Payment Model
You will need to pay a monthly wage to a web developer or a web development team if you decide to hire one. However, a few options to consider when deciding on a project-based operational framework:
1.6.1 Time and Material Paying Model

This method, sometimes known as "Pay as You Go," can be applicable to projects of any size, from the small scale level to enterprise level.
To get things moving, when it's hard to estimate how long something will take and what all has to be done, you agree to pay for everything as it's used. It entails compensating each developer at their hourly rate in accordance with their actual time spent on website creation.
1.6.2 Fixed Price Paying Model

When the scope and timeline of the web project are well defined, this is the ideal option.
With this approach, the budget for developing a web app is set upfront. You get a clear analysis of the labor involved depending on the features and functions you desire. In this model. the additional cost is your responsibility if the project is altered or delayed.
1.7 Finalize Contract
Here we are at the last phase of the hiring process for a web developer. Project-based or team-based approaches, as well as payment terms and nondisclosure agreements (NDAs), can all be negotiated here. This must be done both with independent web designers and with web design firms.
Once that has been accomplished, you'll have a developer on hand who can immediately begin working with your company or on your project.
2. Benefits of Hiring Professional Web Developers
Hiring web developers helps businesses to create websites that are both attractive and easy to navigate.
2.1 Obtain Time and Money Savings for Your Company's Advantage
A web solution might be time-consuming to develop if you lack the technical expertise to deal with unexpected IT issues and produce a polished final result.
However, you may outsource the work to a professional web developer, freeing up your time to deal with other concerns. An expert can also implement a technically sophisticated yet cost-effective solution.
For an effective outcome, you should consider a custom-made website design. Many oOrganizations need to decide between developing unique software or buying pre-made software. There are benefits and drawbacks to both options, but tailor-made solutions goods have the edge since they solve customers' unique issues in the best way possible. A skilled web developer will create a unique brand and design for your products and services goods, drawing in customers who notice the difference.
2.2 Utilizing Up to Date Create Cutting-Edge Development Technologies
A web developer is someone who is completely up to date on all the latest and greatest technology and its proper use. With the help of a web developer, you can get cutting-edge web apps that reflect your company's requirements. Since more and more people are making purchases from their mobile devices, developers will incorporate an adaptable web design into one's marketplace website. , for instance.
2.3 Benefit from The Built-in SEO Algorithms
Because It increases the likelihood that users will click on a website in a browser, search engine optimization (SEO) is crucial for online businesses. With the help of a skilled web developer, one can build an SEO plan based on their extensive knowledge of SEO algorithm integration. Eventually, one may build it up with the assistance of keywords, but first, one needs to construct a solid foundation by employing a web developer or possibly a team of web developers.
2.4 Apply to Continuous Maintenance and Support
Working together with the web developers doesn't end after the final product is developed. This ensures that you will have access to competent help if an issue arises. Hiring an experienced web developer guarantees a flawless, user-friendly, and regularly updated product.
3. Responsibilities of a Web Developer
A web app developer's scope of work is quite broad. But the most important responsibilities of a web developer are as below:
Skills in building website architecture and design using popular web development languages like HTML, CSS, and JavaScript.
Experience with a backend language (PHP, Python, Ruby, etc.) is necessary for writing each feature's logic.
Writing and running a battery of tests to guarantee a bug-free web app.
Communicate and work effectively with the web and graphic developers to implement their visions.
Debugging and routine website web site maintenance.
Keep an eye on indicators like website load time and user engagement to expand your audience.
Get together with higher-ups or paying customers to talk about the site's layout and objectives.
Participate in the team's total project definition and planning.
A web developer is a developer, as you can understand, is responsible for many different things. As a result, it's hardly surprising that it's one of the best-paid careers available right now.
4. Frequently Asked Questions (FAQs)
1. Should I invest in a web developer?
If you need the best web tools, including domain administration and hosting, hire a web development business or a contract web developer. The choice to employ a programmer on a monthly basis will also ensure that bugs are squashed and that the site is kept up-to-date.
2. Who requires the services of a web developer?
If you want to give your site a fresh look, you will probably require the services of a web designer. It may be worthwhile to consult a web developer, though, if the needed adjustments go beyond the superficial and affect the site's structure.
3. What is a web developer's responsibility?
A web developer's responsibilities include creating and testing apps, presenting design specifications, collaborating, troubleshooting website problems, monitoring website traffic, working with graphics and teammates, and administering and updating websites.
5. Conclusion
Here, we lay out the best practices to find and hire a web developer. When you hire a web developer, make sure their experience matches the needs of your business. In case you have made up your mind about opting for the outsourcing model, we at TatvaSoft will be glad to serve your business!