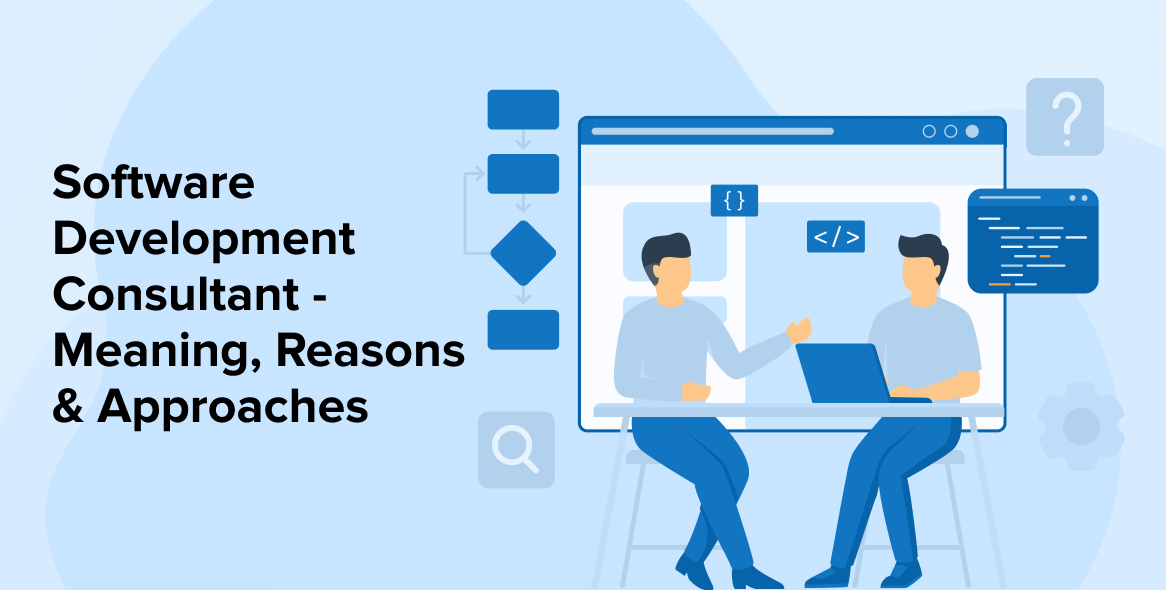 In today's time where the demand for software solutions has increased, to stay ahead of the competitive edge, businesses prefer to hire software development companies that have consultants who have the skills to deal with various difficulties that come from software development. Software development consultant have the expertise of offering the best services that fulfill business requirements and recommend suitable implementations. To know more about it, let's go through the blog and understand who are software development consultants, what are their roles, the services that they offer, and benefits from them.
1. Who is a Software Development Consultant?
A software consultant is a person in the software development company who is an advisor and expert who can offer their expertise and knowledge of software systems to third parties. Generally, software consultants possess a vast knowledge of programming languages and software programs. They have a background in information technology and have joined the profession of consulting after working as software engineers or developers. The consultants offer the required expertise that can help software development companies or their clients to make important decisions about their online presence and digital technology.
1.1 Roles and Responsibilities of Software Consultant
The most important responsibility of a software development consultant is to utilize the deep expertise of technical knowledge to help businesses solve their issues, achieve their goals, and earn more. Besides this, some of the other roles and responsibilities of the software development consultants are –
Gathering Business Information
Consultants are also responsible for knowing everything about the business they are working for and this includes having knowledge about the business's scope, workflow, industry, and other aspects.
Recommending Implementations
The data any software consultant gathers, based on that, can guide the company to select the best-suited solution and tech stack for their requirements in terms of resources available.
Collaborating with Software Engineers and Coordinating Tasks
When any software solution requires development from the scratch, the consultants collaborate with the software developers of that project to oversee the software development process and help them figure out a clear vision of the final product. Sometimes when the company offering software consultants is also in development, they help businesses with custom IT services.
Testing Solutions
Consultants look after the software solutions and make sure that the created software works as intended. They check how smoothly and effortlessly the developed solution can be integrated into the client's company and its business process.
2. What is Software Development Consulting?
Software development consulting is a process that means offering specialist IT expertise to companies to help them resolve their problems or identify new opportunities.
Businesses that require an external and impartial perspective on a software stack assessment or specific business approach, hire software development consultancy services. The hired software development consultants share their viewpoints and offer the requisite IT and development services to the client's business, which can help in incorporating the proposed approach into the market.
2.1 What are the Services Provided by Software Development Consulting Company?
Here are some of the top services that software development consulting firms offer to businesses according to their niche.
Financial Software Consultancy
A financial software consultant is just like a finance analyst who offers various consulting services and financial recommendations by keeping the focus on the client's priorities and interests. A financial software analysis provides customers with comprehensive financial software and management skills that helps in keeping a record of their finances. Besides this, the solution also helps in dealing with facets like liabilities, profits, assets, and more.
Accounting Software Consultancy
One of the types of services that software development consulting firms offer is accounting software consultancy. Here are consultants who help banks with managing financial records. Generally, accounting software includes accounts receivable, accounts payable, general ledger, earning reports, and invoicing features. However, it is essential for a consultant and the developer to make sure that the given software program has all the required features and is proper for the company and its financial growth. And because of this, the consultants make sure that the company gets everything from the software as desired. 
Legal Software Consultancy
In today's time, traditional machines and systems do not work for the legal firm with technological advances, the demand for software solutions in this department has also increased. The top software consulting companies offer services for legal software where they recommend and offer appropriate software to the legal firm's in-house team that can help them with their various business needs and requirements of keeping records of the firm's cases, calendars, documents, contacts, tasks, and track time.
Banking Software Consultancy
In the banking sector, because of severely limited regulatory influence, the consultants aim to provide the banks with software modernization solutions that can help them maximize their productivity. Besides this on business side, it also helps in offering improved customer software that maximizes their productivity, new implementation processes, enterprise systems and more.
Business Software Consultancy
This is a type of software architecture assessment and project development consultancy service that every software development consultancy company offers. Here the consultants offer management software solutions that can help in assisting the organization and help them improve their productivity and success. Besides this, the experts of the consultancy firm assist in evaluating businesses and creating software that can help in meeting their objectives. Such software can perform tasks like project management, time tracking, payment transaction, and more.
3. Reasons Why Organizations Need Software Development Consultants
Some of the reasons why software development consultancy is required are –
Recommendation of the Software Development Approach
One of the most important reasons why software development consultants are in demand is that they can offer every organization insights into the best process that can smoothen the business models. The consultants help businesses to analyze their ongoing approaches and routines and after that advice is given by the consulting firm to the companies to automate their business using the required technologies.
Come with the New Technology Movements
Software development consulting companies help businesses to stay updated with new software development technologies which can help them maintain a competitive edge. This also helps companies to incorporate it into their business model. In addition to this, as consultants have started working and partnering with software development companies, they now not only offer recommendations about new-age technologies but also help businesses to implement new technologies.
Help Prioritize the Software Efforts
Generally, it happens with organizations and service providers that when they are in a growing stage they catch up with high innovation mode that can lead to more activities than what is required. In such situations, software consulting companies offer the service provider and businesses a roadmap by leaving out all the space for errors. Consultants also help in prioritizing the list of software projects and activities right from its planning stage.
Hand-on Training on Software Usage and Technology
A software development consulting company offers businesses hands-on training about the software solution or technology it is created with. Consultants also help in-house teams of companies with lessons and hacks on software or technology usage.
Access to Varied Experience
Another reason why software development consultancy firms are in demand is that organizations that hire them can get access to multi-experienced teams. Because software consultants can help in everything like designing digital roadmap, developing, deploying, and more. Basically, they can help in delivering high-quality software in a pre-decided time and budget.
4. The Roadmap of Software Development Consulting
Roadmap of software development consulting that companies follow while offering services to their clients are – 
Technical Assessments
Definition of Technology Strategies
Definition of Technological Architectures
Functional Specification
Business Process Redesigning
5. How to Hire a Software Consultant?
Here are the steps that any business organization can follow while hiring a software development consultant –
Define your requirements and goals
Create a list of software development consultancy vendors
Contact the vendors and negotiate the expenses of the project
Make final decision
6. Conclusion
As seen in this blog, a software development consultant is a person who shares their extensive knowledge with organizations to choose right solutions. Besides this, software consultants help the software companies in creating unique applications that work for businesses in any field like medicine, accounting, ERP, business, and more.