Two souls, one heart! Fintech has been a lot in demand lately and we are fortunate enough that even during such a COVID-19 pandemic, it is showing no signs of slowing down. Of course, there is no shadow of a doubt that COVID has led to a worldwide recession of immense proportions. In fact, several industries like restaurants, the transport sector, and manufacturing organizations seem to have closed down lately. Especially the ones that are heavily dependent on the conventional way of doing business as they are unable to make it (expense is way higher than their income). 
However, COVID-19 hasn't impacted negatively on every industry; there are a few who somehow managed to ride the wave, perhaps unexpectedly. I am talking about none other than our software  outsourcing industry. And slowly and steadily with the help of a few technological changes, we all will be able to survive and succeed. For example, in the healthcare scenario, collecting and using relevant data, wearables, and VR can assist in making care more accessible whereas the financial services industry  demands contactless payment options to accelerate digital transformation and adoption.   
Now let us forget about other industries, time to focus on businesses that can benefit from fintech development outsourcing.  
1. What is the Hype About Fintech Outsourcing & Software Development?
Over the years Fintech or financial technology seems to have played a pivotal role in not just introducing the concept of online payments but making things way easier for both the banking sector as well as their valued customers. If you take a look now, fintech software development is no longer a mere term but it has become a growing trend – all thanks to the increase in digital payment. 
It may quite interest you to know that there are many people who are unable to access their bank accounts or let's say who do not have a bank account. However, it is not a new concept, it has been since 1950. The year when ATMs and credit cards came as a blessing ensuring safe transactions without visiting the bank. And look at the banking and finance sector now, with the advent of mobile technology, online loans and even cryptocurrency, things seems to have changed to a great extent. Have you ever thought about all these even in your wildest dreams? Of course, not! Fortunately, now it is a reality all thanks to the emerging concept of Fintech software development. 
Here comes the big question: what is fintech development outsourcing? With the growth of tech and innovation, startups have no option other than to become increasingly dependent on each other. After all, hiring fintech software developers, product managers, and finance experts can be affordable for only a few startups and not all. As a result, outsourcing was being preferred to deal with disruptive fintech.  
By outsourcing a software development company you get a team who isn't just knowledgeable but also carries an immense amount of expertise in developing  relevant solutions so that the businesses can streamline their work and  focus on their core aspects. On and all, Fintech Development outsourcing is a unique approach to consider. Here, with the help of a third party, one can improve the productivity of the business.
2. Why Need to Choose Outsourcing FinTech Software Development Services for Companies?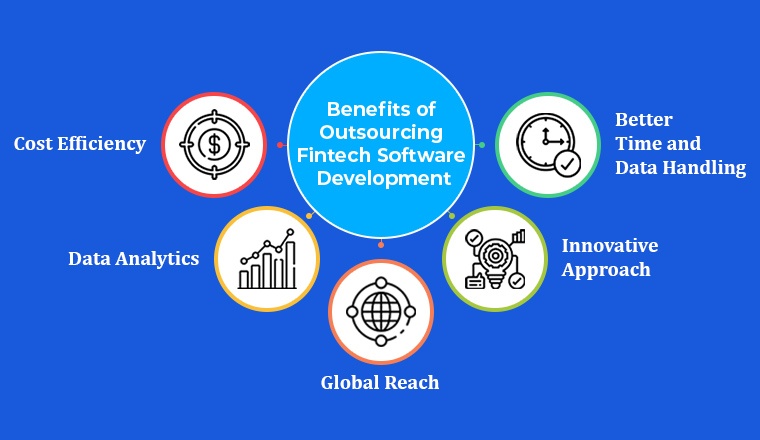 1. Cost Efficiency
Because around 31% of software outsourcing has been growing in the upcoming years. Software development Outsourcing somehow happens to be a cost-effective option and maybe that's why it is loved by several banks and financial or fintech companies.    
As a result, fintech companies can save immense overhead expenses. Have you ever wondered why this is so? Usually when you do not opt for outsourcing a significant increase in cost happens. Come on! Software development is no cookie-cutter; it incorporates several equations, additions, reductions, resulting in continuous change in requirements and business procedures. Thus, the cost also fluctuates. Whereas in outsourcing fintech software, that's not the case! Outsourcing fintech software development itself is a cost-effective option so even if there are ups and downs, you will find it a more convenient option in comparison to choosing in-house fintech software development companies.    
2. Data Analytics – These Moments One Must Milk for! 
The entire finance industry survives on data collection and analytics. By outsourcing partners, organisations can come up with fintech software that enables them to analyze sample customer data. This results in increased sales and promoting customer loyalty. Right from their credit scores to their spending habits, everything is monitored carefully via software just to offer tailored services for each prospect.      
How fintech outsourcing or offshore development services works wonders here? Well, most of the offshore service providers tend to choose Python as their programming language for the data analytics so that the financial institutions can not just track accurate information but also ensure security and high-end protection of their valuable data from non-stoppable cyber crimes.
3. Global Reach
Another major advantage for the financial or fintech companies offered by outsourcing developers is the insane global reach. Since we are talking about outsourcing, there are pretty fair chances for the technology partner to assist you in promoting your fintech app globally. 
4. Innovative Approach
When nothing works right, turn left! For example, Airbnb or Uber or WeChat services, I am pretty sure you must have read all their success stories, of course, based on technological innovations. So yes, incorporating emerging technologies in your existing businesses can aid in a plethora of new ways you may have never thought about earlier and financial institutions is no exception.
5. Better Time and Data Handling
Last but certainly not least is the best optimization of data and time for the business. The offshore services provider comprises specialized teams of experts who exactly know what needs to be done to reduce development times and come up with quick, agile results and consistent quality. After all, this is the only way they end up meeting the high-end demand of different organizations. 
Apart from time, security breaches or data exposure has become a severe threat and the most important challenge being faced by many financial executives these days. After all, crucial information like social security number or credit/debit card information, salaries, spending habits, house habits, etc are being stored. This will attract a lot of bad guys! Fret not, you can ask your offshore development partner to incorporate cybersecurity defences services. After all, it's high time we must pull up our socks against incredibly increasing cybercrimes. 
Well, here we are not being biased at all. We can go on and on with the advantages offered by outsourcing software development but that doesn't mean it does not possess any downsides. 
3. The Major Challenges Faced by Fintech Businesses here are:
1. Security
Your offshore development partner will make sure that no security breach will take place. But in case of a failure, it will result in a major loss in business. And god forbid if the software has been exploited by a cybercriminal. You cannot imagine how to recover from that! 
2. Tacking Emerging Risks
FinTech companies are compelled to keep up with the technological risks. So no matter what, how the market is they have to keep tracking regularly. 
3. High Quality
Lastly, the quality of solutions provided by the offshore tech partner is another unseen challenge in itself. I mean to decide whether it's good, bad or better is critical considering different customer perspectives. 
4. Tips and Tricks – How to Choose the Right Fintech Development Outsourcing Company?
Outsourcing fintech development has now become a compulsion if you somehow don't follow the herd; there are fair chances of you losing what you have significantly. Time to look for a reliable fintech software development company. Well, that's not a big problem since we have a plethora of fintech services providers available around but the main question is how? How to find a reliable tech partner or an outsourcing partner who not just develops an extraordinary, law-abiding app but also aids in digital transformation as a whole?
1. Consider the Development Companies Working Experience
Of course, knowledge is an important yet basic aspect and almost all fintech software outsourcing companies are knowledgeable but what makes one a cut above is how they put their knowledge and skills into practice? Also, is the development team well experienced or not?
Finding a tech partner having some reliable experience in developing high-quality fintech solutions is surely a thing to consider. Now how is this possible, when you are looking for different outsourcing companies just ensure to consider their years of experience and the type of fintech projects they have worked on to date? An experienced outsource fintech company wouldn't be scared of incorporating the use of emerging technologies in their ongoing fintech product.
2. Cybersecurity
Another major factor or concern is cybersecurity. It's quite a hot potato, especially in the software outsourcing industry. Whenever you are about to choose a development company, just ensure that they consider security right from the beginning and not as an afterthought. With tons of security breaches happening around, one shouldn't take any chance. Also, as a financial service provider, they  should have a basic gist of what security measures must be taken into account while developing financial-based software solutions.
3. Can They Mitigate Risks Effectively?
Managing risks is very important when looking for reliable development teams in other countries. Not to mention that here a high level of data is at stake. Yes, one wrong move and everything is finished. Today gathering, storing, managing data has become pretty much of a concern especially when you are trying to involve a tech partner for your fintech project here.
So before signing the NDA agreement be double sure of fact that they excel in generating risk management plans or not. By doing this, you can save yourself from severe future headaches and bottlenecks. In simple words, if the development company fails in delivering the expected product or solution, then they must have a plan B as compensation for time, money and energy. On and all, it is extremely important, especially when working with a fintech software development outsourcing company.
5. Do You Agree that Outsourcing is Meant for Financial Business?
So what to do? Whether to give in or not! Well backing off is not an option especially considering the present times. But what we have in our hands is to play smartly. I mean you will come across a plethora of good readings but make sure you know everything in advance. 
So that's all for now! I hope you enjoyed reading the post. Keep watching the space for better perspectives regarding the same.