The constant rise of the fintech market encourages more and more financial organizations and fintech startups to have a digital solution that can help in gaining a competitive edge. To create an advanced fintech solution, companies need to have expertise and talent and this is why companies prefer to hire outsourcing financial software development companies. This has made fintech one of the top industries to heavily invest in outsourcing. And one of the biggest reasons behind this is cost-effectiveness.
Though the majority of the fintech outsourcing companies show the best results, there is still a lot of confusion about it. To clear that confusion, learn more about fintech development outsourcing, and see why it is considered a game-changer for the financial industry, let us go through this blog.
1. What is Fintech Development Outsourcing?
Here comes the big question what is fintech outsourcing? With tech and innovation growing hand-in-hand, startups have no option other than to become increasingly dependent on each other. After all, hiring software developers, product managers, and finance experts can be affordable for only a few startups and not all. As a result, outsourcing was preferred to deal with disruptive fintech.  
By outsourcing a software development company you get a team who carries expertise in developing mobile apps, and UI/UX designs, for the business so that they can focus on their core aspects. On and all, Financial technology outsourcing is a unique approach to consider. Here, with the help of a third party, a company can offer a sure-shot way to improve the productivity of the business.
2. Why Outsource Fintech Software Development Services?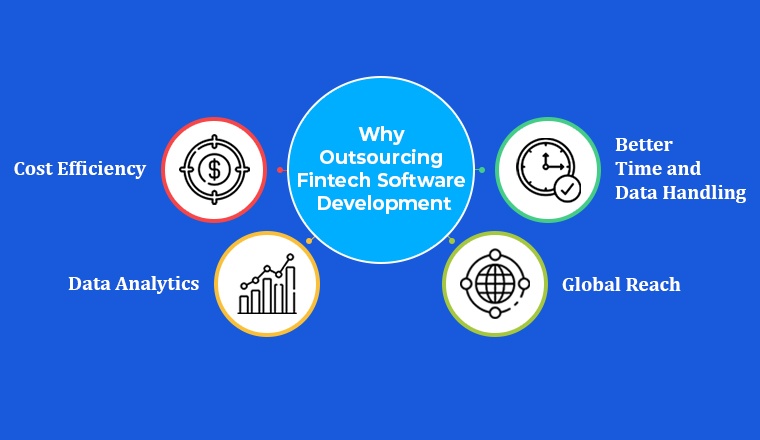 2.1 Cost Efficiency
One of the most important reasons to choose outsourcing fintech application development services is that it is a much cheaper option than creating a fintech solution with an in-house team or a local company. The exact amount of saving depends on the technical stack, the complexity of the fintech solution, the experience level of the developers, the location of the software development team, and more. The average cost of fintech app development in the U.S is around $200/hour while in Ukraine the charges for the same services are $50. And this is the reason why companies from developing countries hire firms from developing countries. They get a cheaper option with the same level of expertise.
Besides this, hiring an in-house team increases additional costs like taxes, office rent, accountant services, equipment, and more. Therefore, choosing the right fintech software development company for outsourcing is considered cost-efficient.
2.2 Data Analytics
The entire finance industry survives on data collection and analytics. As a result, the potential risks can be reduced. By outsourcing partners, fintech organizations can come up with software that enables them to analyze sample customer data. This results in increased sales and promotes customer loyalty. Right from their credit scores to their spending habits, everything is monitored carefully via software just to offer tailored services for each prospect.
How outsourcing or offshore development services works wonders here? Well, most offshore service providers tend to choose Python as their programming language for the data analytics software so that the financial institutions can not just track accurate information but also ensures security and high-end protection of their valuable data from non-stoppable cyber crimes.
2.3 Global Reach
Another major advantage for the financial companies offered by outsourcing developers is the insane global reach. Since we are talking about outsourcing, there are pretty fair chances for the technology partner to assist you in promoting your software globally.
2.4 Better Time and Data Handling
Last but certainly not least is the best optimization of data and time for the business. The offshore services provider comprises specialized teams of experts who exactly know what needs to be done to reduce development times and come up with quick, agile results and consistent quality. After all, this is the only way they end up meeting the high-end demand of different organizations.
Apart from time, security breaches or data exposure has become a severe threat and the most important challenge being faced by many financial executives these days. After all, crucial information like social security number or credit/debit card information, salaries, spending habits, house habits, etc are being stored. This will attract a lot of bad guys! Fret not, you can ask your offshore development partner to incorporate cybersecurity defense services. After all, it's high time we must pull up our socks against incredibly increasing cybercrimes.
Well, I am not biased at all. I can go on and on with the advantages offered by outsourcing software development but that doesn't mean it does not possess any downsides.
3. The Major Challenges Faced by Fintech Businesses
3.1 Security
Of course, your offshore tech partner will ensure to offer enough security but what if they fail? That means having a slight lack of cybersecurity will result in an entire failure. And god forbid if the software has been exploited by a cybercriminal. You cannot imagine how to recover from that!
3.2 Tacking Emerging Risks
FinTech companies are compelled to keep up with the technological risks. So no matter, how the market is they have to keep tracking regularly.
3.3 High Quality
Lastly, the quality of solutions provided by the offshore tech partner is another unseen challenge in itself. I mean to decide whether it's good, bad, or better is critical considering different customer perspectives.
4. Do You Agree that Outsourcing is Meant for Financial Business?
So what to do? Whether to give in or not! Well backing off is not an option especially considering the present times. But what we have in our hands is to play smartly. I mean you will come across a plethora of good readings but make sure you know everything in advance.