Cut-throat and fierce competition has made businesses brainstorm strategies in a way they get better than competitors. Software or Product-driven world enforces businesses to innovate, implement and build newer software applications. It becomes more exhaustive for a company if they have to do everything on their own. Outsourcing has a raging effect on companies these days. Every second company is lured by the advantages and taking up outsourcing for their business. Specifically, when it comes to product outsourcing, businesses have been pressured in terms of growing their own in-house team and coming up with extraordinary and creative concepts. With the help of product experts from outsourced product development agencies, the process gets much easier. Now you know why there is rage about outsourcing IT services.
In this blog, we will be exploring how outsourcing product development can show fruitful results and also explore aspects of what makes businesses outsource product development more preferable.
1. What is Outsource Product Development?
For everyone knows what is Outsourcing as it is the process where companies transfer or leverage expertise of functions and development processes from other third-party companies. Outsourced product development means the outsourcing of specific functions or all the functions associated with product management & development and maintenance. Outsourcing product development enables customers to access high-quality services while lowering administrative expenditures.
You can hire an IT product development partner who will analyze your project requirements, and product development ideas, recommend changes, remove technology gaps, add resources needed for the product, and then make a decision on how much time it will take to develop an application. 
Often businesses get confused between product development outsourcing and software application development outsourcing. Let's get this over with. The key distinction is the collection of skills, standards, and implementation expertise required to produce a product.
The variations in product application development require specific consideration, but we will attempt to highlight the primary aspects distinguishing the facts here. Generally, product outsourcing can be generalized and classified on the basis of
Technology based Product development
Process-based Product development
While you decide to outsource, you need to choose one of these ways that best suits your business line.
2. In-House vs Outsourced Product Development
Unlike outsourcing product development, in-house development allows you to build your own team of product developers from the bottom up. You'll be filling jobs based on the expertise, skills, and experience needed to develop the product.
Choosing in-house development is equivalent to hiring full-time staff for your company. To build your own IT team, you'll need to go through the hiring, interviewing, and onboarding processes.
Here are some pros and cons of hiring an in-house product development team: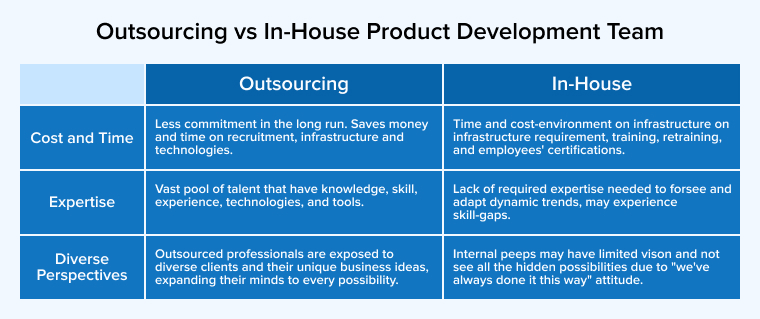 Benefits of using In-house Product development
Simpler and easier regular face-to-face communication within the team;
Immediate assistance
The aims and culture of your firm are shared by your in-house workforce.
Limitations of Inhouse Product development
In-house teams are expensive
high rate of turnover;
Upskilling in groups;
lack of knowledge
As discussed earlier, Outsourcing product development is the process of outsourcing the design and development of a minimum viable product to a third-party technology partner. Product outsourcing is frequently carried out on a contractual basis in which the requirements are shown to the outsourcing firm. They take care of all the needs and delivery requirements as per the needs. Google and Slack are two well-known companies that have leading examples who have contracted out their IT development.
Here are some advantages and disadvantages of outsourcing product development:
"If you deprive yourself of outsourcing and your competitors do not, you're putting yourself out of business."

Lee Kuan Yew – Former Prime Minister of Singapore
Benefits are
Talented and a bigger resource pool
No technological limits
Enhanced cost control
Superior knowledge
Best quality assurance
Limitations
Communication is the biggest stumbling block
There are trust issues
Distance is a concern too
Transparency is also questionable
Further Reading On:
Insourcing vs Outsourcing : Which One to Choose?
3. Why Do Companies Outsource Product Development?
Here are a few reasons that will force you as a business to think of outsourcing Product Development. There can be many reasons but some of the stronger ones are mentioned in the following points given below. 

3.1 Get Deep Knowledge of Experts, Skills, and Experience
What do you expect when you hire a third-party software development company other than being experts in what they offer? Well, outsourced Software development companies are jack of all trades. They have been working over these services for years with the best possible skill set and knowledge from the resources they have in the product development agency.
Once you recognize that you lack resources, experience, and competence in most or all elements of developing or deploying an application, that's when outsourcing comes into the picture. Add to it a scarcity of software professionals and competition from well-established companies offering lucrative compensation packages. Outsourcing companies give access to savvy product designers and technology partners who have technical expertise in new technologies.
Outsourced product development allows you to obtain access to all skills in a cost-effective and timely manner. Consulting, analytics, marketing, UI/UX design, feasible MVP development, and bespoke software development services are just a few of the services available to you.
3.2 Save Time on Hiring and Onboarding
Time-saving is one of the largest advantages of offshore outsourcing. There are businesses that spend hours and hours in hiring talent and their onboarding and then the task expected from them is not up to the mark. They spend a lot of time which delays the actual focus of accelerating time to market. They take a prolonged time and waste most of their time.
An expert software development business will put together a team of technical professionals hired on the basis of their skill set and the requirements of the project. All you need to do is undertake a discovery phase in which you submit project details, financial expectations, and the desired timescale. The rest will be taken care of by the company.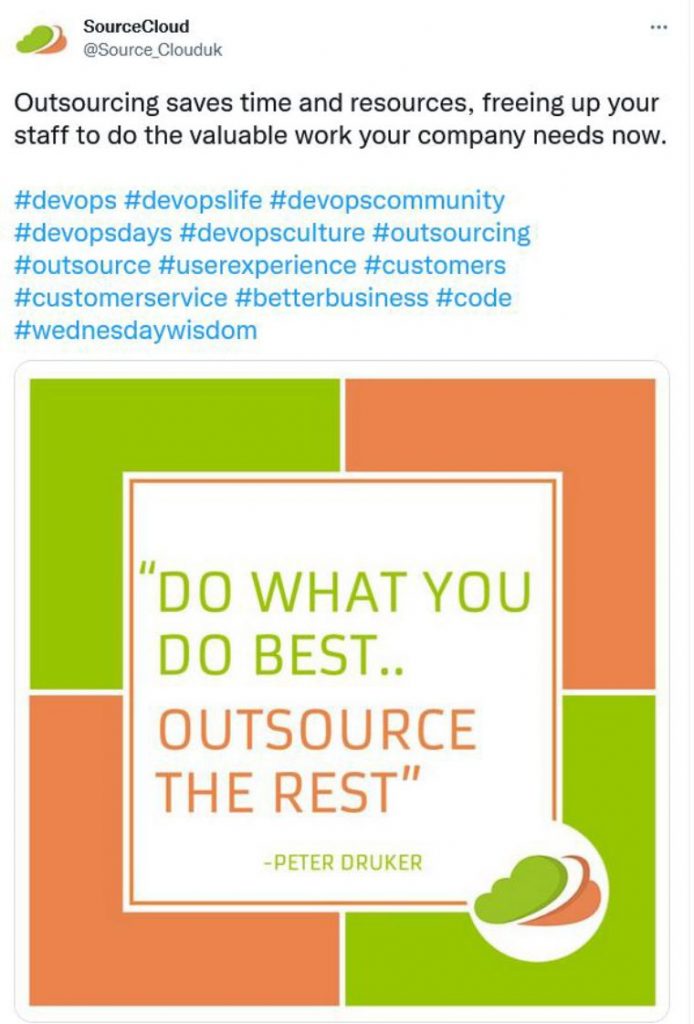 3.3 Cost Savings on Major Processes
According to clutch, https://clutch.co/bpo/virtual-assistants/resources/small-business-outsourcing-statistics
There is no reason why businesses choose outsourcing in the past. This myth of outsourcing being just a cost-effective method has been busted because there are several other advantages besides cost reduction. The process of hiring employees and training them in-house is an expensive endeavor. Yes, therefore, you must also consider the cost of acquiring and maintaining technical equipment, as well as the cost of human labor. Such enormous investments at the start of a corporation might easily mean tragedy if the project does not go exactly as planned.
Outsourcing remote product development teams is not only less expensive, but also eliminates the need to worry about overhead costs such as software licenses, upgrades, equipment upkeep, employee benefits, and so on. It also offers infrastructural benefits, saves on your hiring-training cost, and other major unexpected benefits too
3.4 Rapidness in Process
The only reason why most businesses use 'outsourcing' to manage their product-related tasks is rapidness. Outsourcing allows organizations to accelerate the development process, which is another reason it has become popular. The outsourced workforce contributes to a shorter time to market for the product. That is exactly what every business wants.

Any business owner would want to get their products or services to their customers as soon as feasible. Outsourcing accomplishes this by speeding up the development process, allowing the finished product to be delivered on time. People all across the world outsource teams in order to accelerate their development process.
4. Most Effective Product Development Outsourcing Models
4.1 Dedicated Team Outsourcing Model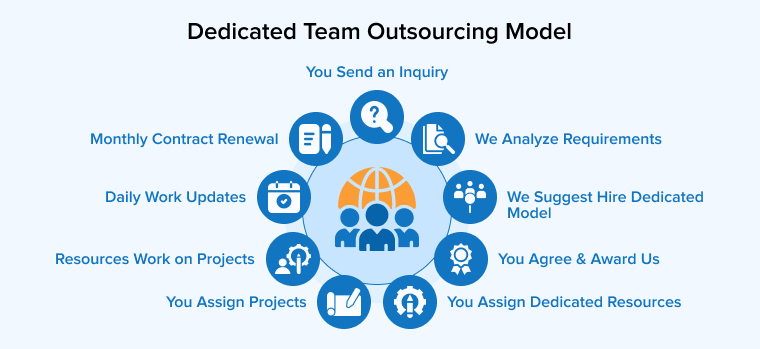 In the dedicated development team engagement model, the Product development outsourcing provider is in charge of all the activities occurring like people administration, work distribution, and building quality products for third-party companies. You don't get a group of specialists focusing on low-level tasks, but rather a team involved in multiple projects or providing a specialized complex service.
The Product development provider's objective is to provide the best employees. The provider creates and then implements a workable plan for the team.
4.2 Time and Materials Model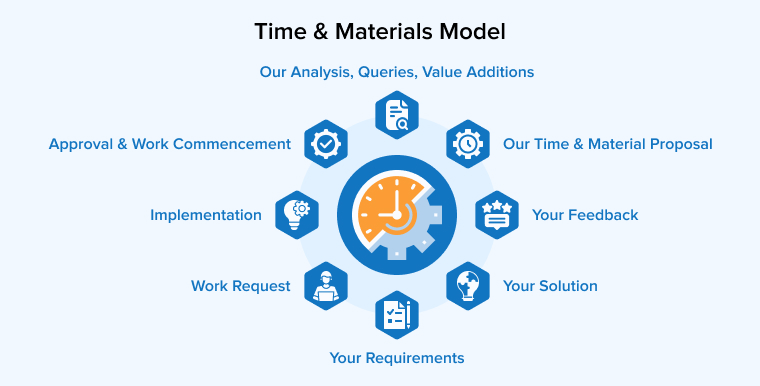 T&M (Time & Materials) signifies that you pay for the number of labor hours as well as the cost of materials. The quality of your final output is prioritized in this outsourcing arrangement. See, as the product is being produced and user feedback begins to stream in, the final version usually looks somewhat completely different from your early ideas. It's not a terrible thing; on the contrary, buyers should be completely satisfied with the product at the end of the day.
4.3 Fixed Price Outsourcing Model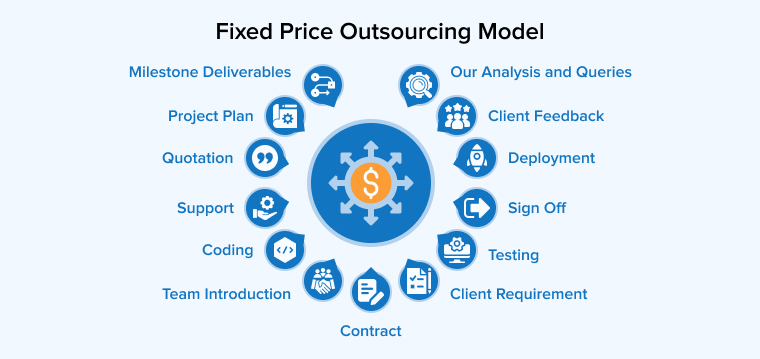 A fixed pricing model is an outsourcing approach in which you agree to pay a predetermined amount of money to your production company for a specific project. At first look, this appears to be the best route to take: after all, you're guaranteed to stay inside your budget. The catch, though, is as follows. A fixed-price option is only appropriate for projects with certain and established requirements. As a result, it will not be a suitable fit for designing a product using agile principles, where flexibility is prioritized.
5. Final Thoughts
Custom software product development services are extremely beneficial since they streamline their business processes and objectives in the shortest amount of time, within the specified budget. Now that you are familiar with the benefits and best practices of outsourcing product development , hiring an  outsourced product development company might be a terrific and fruitful choice for your organization.