Power BI is one of the most promising data visualization tools that offer businesses accurate insights from data and allows companies to introspect and extract reliable insights. The data has the capacity to stimulate the growth of your business and hence knowing the benefits of Power BI will help businesses tap on its potential benefits. This blog is completely focused on the advantages of Power BI and the tips on how business data will help you to accelerate your marketing strategies. So, why wait? Let's get started with the basics
1. What is Power BI?
Power BI is a product and service package for people and teams that includes business intelligence (BI), reporting, and data visualization. Power BI distinguishes itself by simplified publication and distribution features, as well as connection with other Microsoft products and services. The primary task of Microsoft Power BI is to gather and process structured and unstructured data, transforming it into actionable insights, generally via the use of aesthetically appealing and simple-to-understand charts and graphs. This enables users to create and share clear and helpful snapshots of what's going on in their organization.
The Business Intelligence platform can connect to a variety of data files and data sources, including simple Excel spreadsheets, databases, cloud-based and on-premise apps. You can do everything you want with raw data with the help of its analytical capabilities. It helps you form meaningful insights from numerous components and also share insights with the team. There are three ways you can use Power BI for your business.
Power BI Desktop
This is a free, easy to use data, autonomous analytic platform and report marketing solution for Windows.
Power BI Pro
This is a complete premium version. It is obviously a self-service analytics tool which can also be hosted on cloud.
Power BI Premium
This version is best suited for larger corporate enterprises with a significant number of users.
2. Benefits of Power BI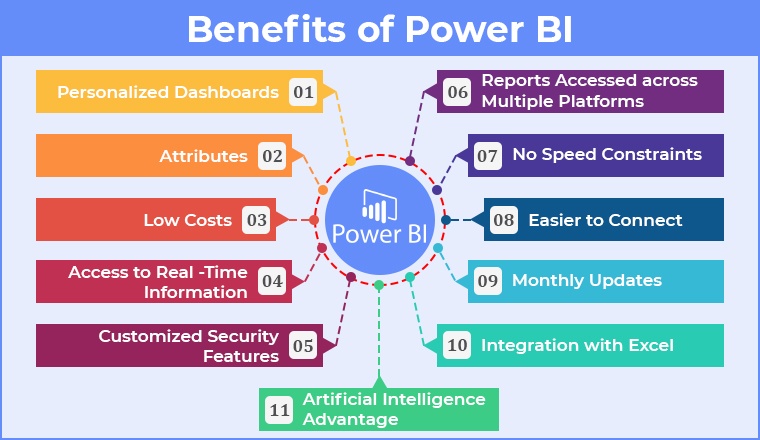 2.1 Personalized Dashboards
The first feature of Power BI is to effectively display all the information through this effective dashboard. The information on the dashboards can be tailored to match the unique needs of every organization, and are the main focused features of Power BI. Dashboards and BI reports may be readily available and included in this app to give a consistent user experience.
2.2 Attributes
Power BI ensures that any user can easily incorporate BI and analytics, allowing your team to produce interactive reports and geo-map visualization. Power BI also enables your users to develop trustworthy reports from power bi report server to analyze dashboards using reports, and datasets, power bi visuals and business environment connectors. All of this may be customized to meet the demands of your company.
2.3 Low Costs
The third Power BI benefit is lower cost. Cost is one of the major factors why businesses opt for Power BI. Though for a fact we know that Power BI is a subscription based tool or service that does not necessitate the purchase of licenses. You can either have a free version or avail for other support by using the paid application. The clients, in reality, have access to a free version where they may subscribe and design their own dashboards as and when they want.
To get started, you would need to sign up for an account and begin designing your own dashboards right away. You must upgrade to the Pro edition if you want to work with your peers.
2.4 Access to Real -Time Information
The real-time information access is a real power for business if they know how to use it and make informed business decisions. Power BI enables you and your team to view reports and dashboards from any location. It can be in your cabin or on your way to a client meeting, working from home, or anywhere in the globe. It is also accessible on mobile or smartphones like iOS, Android, and Windows devices. You may get reports instantaneously as long as you have an internet connection.
2.5 Customized Security Features
With data security becoming a major concern for modern enterprises, Power BI protects sensitive data by providing granular restrictions on access both internally and externally. RLS- Row-level security access the filters may be used by developers to guarantee that users see only data that is relevant to them. They can also reduce the security concerns of individuals accessing data by restricting their access.
2.6 Reports Accessed Across Multiple Platforms
Reports access is a blessing for companies using Power BI for their day-to-day tasks. WIth Power BI this becomes an extra brownie point for data analyzers. As long as you have an internet connection, you may check your Power Bi reports from any device, may it be a mobile or a PC. Native applications for iOS, Android, and Windows devices are now available.
2.7 No Speed Constraints
This application is already faster than you expect so the speed constraint is never there. When you move into an existing BI system to a powerful cloud environment using Power BI then the work is already faster. You have incorporated different aspects which reduce the memory storage and speed limits, guaranteeing data can be retrieved and analyzed fast.
2.8 Easier to Connect
The connection of data sources with this power BI app is a stronger connection. There are many sources such as the sales data in CRM or financial data in ERP system or any other source of data. The secure and reliable data connectivity established between these sources and Power BI defines how powerful this is. Power Bi provides access to on-premise, Azure Cloud, and third-party data sources in a single, user-friendly application. Power BI makes you generate fresh and intriguing datasets by combining data from diverse sources.
Nonetheless, despite the fact that connectivity is always extensive, you can be confident that Power BI's security procedures are always developing and meet international security standards.
2.9 Monthly Updates
Updates on a regular basis Ensure that Power BI receives frequent monthly upgrades. This is accomplished by Microsoft being proactive in responding to Power BI community ideas. New requested feature is voted on and integrated inside the main product.
Meanwhile, as the Power BI community expands, you can be certain that your support channels will expand and you will have access to new suggestions for how to effectively use the app and software.
2.10 Integration with Excel
When it comes to analytics and reporting, many firms still rely largely on Excel. Power BI works in tandem with Excel. Without learning a new application or language, you can effortlessly link queries, data models, and reports to Power BI dashboards and build interactive visualizations. Since many businesses are dependent on excel and you need to extract insights daily from it. You may configure it so that when you open your dashboard, you get the correct data straight away. This is one of the huge benefits of using Power BI.
2.11 Artificial Intelligence Advantage
AI-built tools are imbibed thoroughly in the Power BI app. The Power BI users can effortlessly access image recognition. Machine learning, IOT, and text analytics to create unique data models, and incorporate it with Azure Machine Learning.
3. Conclusion
Analyzing your data has been a part of your regular operations but with Power BI, the tasks just got easier. Data analysis will be fruitful and more definite. Power BI is highly customizable which makes it quite easy to integrate with any third-party apps. Users can also develop custom reports easily using embedded power bi dashboards. As a part of advantage, you also have power bi community suggestions that help you with every minute problems, advanced data services, connecting it with google analytics and other services too. Everything is easy and streamlined with Power BI. You can create visuals, reports, share data, report data, deliver on time and accurately.