Are you contemplating whether to outsource or rely on an in-house team? Both solutions offer major advantages and disadvantages, and selecting a choice may require considerable effort. We'll attempt to simplify the process for you by including all the necessary information in this post. Therefore, let us have the nearshore vs offshore debate and examine the distinction between both types of software development processes, their respective benefits and drawbacks, and the core concepts that should be considered when selecting one over another.
Nevertheless, before we proceed, let us discuss the broader picture, specifically why should a corporation choose outsourcing in the first place.
1. Concept of Nearshore Software Development
Nearshore outsourcing is the delegation of software development projects to a team situated in a nearby nation. In most circumstances, nearshore development is somewhat less expensive than onshore development. However, over time, small savings are outweighed by additional costs.
For instance, the United States and Canada are best served by nearshore countries like Mexico and Latin America. Most European countries have confidence in their "local" nearshore software development companies. In this instance, nations such as England may utilize Ireland, but Norway, which has no nearshore IT neighbors, chooses to work with Eastern European companies from Ukraine or Belarus.
1.1 Benefits of Nearshoring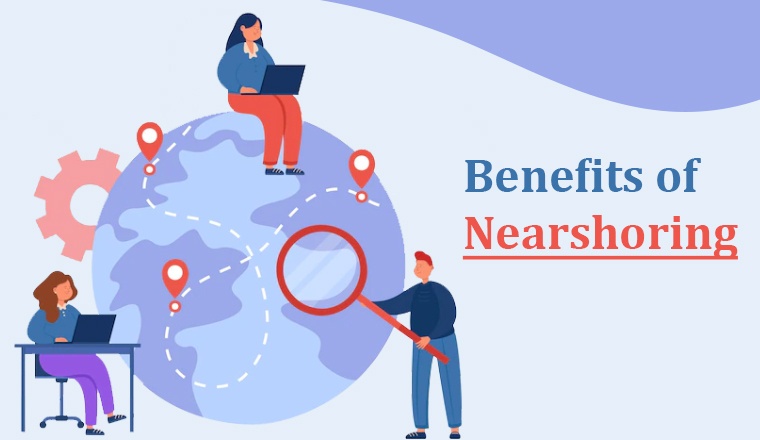 Nearshore development offers a mixture of both onshore and offshore benefits. Here are a few of the nearshore software development benefits:
1. No Language barriers
The geographical and cultural intimacy of your nearshore partner helps in facilitating more effective and seamless communication.
Your communications will not be misinterpreted, and you don't need to remain awake until dawn awaiting a reply from a coworker hundreds of kilometers away. The majority of nearshore activities are located within three time zones of the main headquarters.
In addition, the shorter distance between your offices and your expanded staff allows for more regular in-person meetings and activities. This enhances cooperation, creates a spirit of teamwork, and promotes a genuine sense of ownership in the business culture.
2. Geographical vicinity
The nearshore development puts an expanded software development team located within "arms-length" of the customer's locations, in contrast to offshore outsourcing, which can be offered from the far end of the world with significant time disparities. This implies that the extended team of specialists will be accessible for regular on-site inspections, and there will be greater temporal synchrony, resulting in improved communication, minimal cultural differences, cooperation, and project completion.
3. Less cultural difference
When having an outsourcing partner from a nearby nation, cultural similarities are prevalent. It is simpler for teams to cooperate and merge together. This expedites interaction, and exchanges become more fruitful as well as enhancing the effectiveness and value of outputs.
4. Near to no Time zone differences
Given their geographical proximity, customer and provider work schedules overlap substantially. It makes real-time cooperation easier. It becomes simpler to:
Organize meetings
Engage in more productive relationships
Quicker problem resolution
Get greater value for your money
Bring the project back on track
5. Faster time to market
The nearshore outsourcing drastically decreases the team's required learning time. This in fact simplifies the whole software development process and guarantees that a customer may ship a competitive solution to the marketplace up to twofold as fast.
1.2 Risks of Nearshoring
1. Higher costs
Hiring nearshore companies, especially in western countries, costs you big-time than offshoring from Asian countries like India and China.
2. Few choices
You are restricted in your selection of nations since you can only consider a small range of potential partners. Your options are limited and you may not even be able to discover the ideal fit.
2. Concept of Offshore Software Development
Similar to nearshore outsourcing in offshore software development outsourcing, companies distribute the software development process to an international contracting organization. In contrast to a nearshore team, offshore developers are located in different regions. Latin America, India, Ukraine, and China are all well-liked offshore locations.
In respect of professional hourly costs, this technique may be more affordable than nearshore outsourcing. Also, offshore development brings distinct operational hurdles to entrepreneurs and project teams. This is because of the significant time gap, and the insurmountable cultural and linguistic hurdles.
2.1 Benefits of Offshoring
1. Lower costs
Developing software is an expensive process in itself, and if you account for the cost of developing software, you would want to conserve a portion of your budget. When delegating a project to a software development company, your primary objective is to obtain a superior result, but you should also consider the financial sustainability of this strategy. As stated previously, programmers from underdeveloped nations cost less than their American counterparts.
The United States and Western Europe-based programmers cost somewhere between $60 to $200 per hour, but skilled professionals from India would charge approximately $40 per hour; therefore you will save a portion of your budget with this strategy.
2. Global Talent Pool
The average organization invests 10 weeks or longer searching for a software development team. Upon reflection, this represents 2 to 3 months of time and money lost. The need for expert programmers is considerable, yet it is difficult to locate local talent.
Now with offshoring, you will have exposure to universal offshore software development services. Offshore destinations like India, Ukraine, and the Philippines possess software developers with excellent technical skills.
3. Focus on Core Business Task
By outsourcing software development tasks, you and your business will save considerable time. This is particularly relevant for startups with limited manpower that are constantly switching between their key business responsibilities. Micro startups typically have limited funds, therefore outsourcing is an excellent choice for them.
When your organization has rapid access to skilled people and professional offshore development teams for your technological division, you and your team will be able to focus on other crucial business-related activities with relative ease. Although you will have to constantly monitor the development of an in-house team, a competent outsourcing partner will complete your duties by the specified deadline.
4. Gaining Competitive Edge
Utilizing new technology is becoming increasingly vital for organizations today. Trends in the IT industry such as BI, AI, ML, RPA, and Blockchain among others have become the main source for simplifying global corporate processes. Nevertheless, the application of technology can be difficult, hence companies regularly outsource their development tasks to offshore software development firms with experience in such software technologies. This helps them to achieve a competitive edge in their respective industries.
5. Scaling Your Development Team
Any company's development path will need scaling up or down its resources. Your software development project may not always require the same assets. There are times of project development when a large number of IT professionals are required. When production reaches a particular level, it may be necessary to reduce the size of the development team.
However, the expense of expanding and contracting the development team would be greater, and managing an IT staff would not be as simple as it seems.
By delegating all of this to your offshore development center, you might save a substantial amount of time, money, and effort while assembling the development team. How? After forming a relationship, the development team will become yours. However, the offshore corporation will be in charge of the development staff. In other words, they will allow you to request additional employees or reduce a set amount of resources based on your needs.
6. Different Shifts
Offshore professionals are accessible to work the schedules requested by their employers. This provides an overlapping of hours worked (similar to nearshore nations) and a rapid turnover.
2.2 Risks of Offshoring
1. Time Zone Differences
The time zone difference is one of the most significant difficulties that come to mind when considering working with someone in a distant nation. Dealing with a company on the opposite side of the table implies there will be a significant time difference between you and your staff, which will work while you sleep and vice versa. You will have significant communication delays. If you require explanations or just wish to contact your offshore team, you will have to wait until their shift begins for a response, which might cause additional delays in the project's completion.
Even if you decide to go to your partner's place, it will cost you time and money to get there. If you and your project place a high value on frequent and timely communication, offshore outsourcing may not be the ideal solution.
2. Lack of Face-to-Face Communication
Face-to-face communication can improve mutual understanding. In the majority of situations, colleagues become friends. Due to the great distance, such an occurrence seems improbable. To substitute for the loss of real connection, you might employ video calls to better comprehend your offshore team.
3. Security Concerns
Companies may attain their objectives through offshore outsourcing. To secure your data, you should sign a legal document with your partner offshore firm when you communicate sensitive information. NDA (Non-Disclosure Agreement), Security Protocols, and other security documents will serve as references for your application.
However, things may occur in ways that we may not desire. Even if you sign legal security papers, hackers might compromise some personal data. Both sides are often unprepared for this disclosure.
When concluding the agreement with the nearshore/offshore/onshore outsourcing company, you should consult with your corporate team and build a plan with clear standards and milestones for protecting your data. Thus, you may select what information can be shared with software vendors and what information must be kept private.
3. Nearshore vs Offshore Software Development: Which One is Better?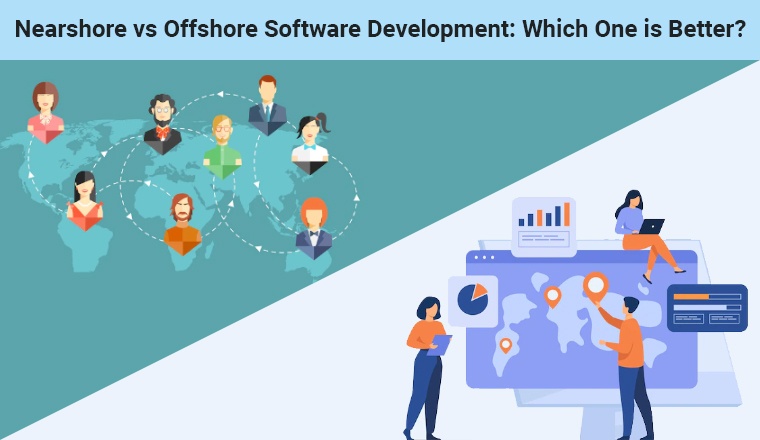 Remember that neither offshore nor nearshore production can provide a flawless answer to your outsourcing demands. Both nearshore and offshore outsourcing have pros and cons, and the one that will perform great for you relies on your budget and the nature of your project.
When deciding between nearshore and offshore outsourcing for a prospective project, it is also vital to consider other variables that might impact its performance. If the firm encounters a higher-than-anticipated cost for its need, it will prioritize versions that are more accessible. Due to a severe lack of available tech professionals, countries such as the United States choose offshore outsourcing.
Offshore outsourcing may be an excellent and cost-effective choice for smaller or one-time projects, as well as for businesses with a restricted budget for technical staff augmentation. In contrast, nearshore outsourcing is typically more effective when you seek to create tight, long-term cooperation on more complicated projects.
Despite the fact, that people prefer offshore outsourcing more, why? Well, owing to the competence of Asian engineers, many U.S. companies choose to collaborate with them. A profitable offshore firm is one in which excellent technology is assured at a much cheaper rate. This method is advantageous for both parties.
In a nutshell, every model has its own advantages and disadvantages. Depending on money and other factors, one strategy may be favored over another. By comparing nearshoring vs offshoring, it is preferable to consider the company's requirements rather than the particular outsourcing type and other opinions that might confuse you.
For a better understanding, have a look at the comparative table below:
Criteria
Nearshore outsourcing
Offshore outsourcing
Travel possibilities
Max up to 5hrs duration by flights
30-hour flights with additional expenditures for sleeping accommodations
Real-time collaboration
Only possible for regions with the same time zone
Harder to organize owing to 7- to 10-hour time zone disparities
Cultural similarity
Very identical
The majority of offshore outsourcing locations are in Asia and Africa, both of which have civilizations radically distinct from North America.
Project safety
The WTO, WIPO, PCT, and USMCA accords
Some contracts are not applicable
Project costs
$25 – $50/hr
$15 – $100/hr
Perks

Easier teamwork, synchronized communication, and hence higher job quality.
Projects for which cost savings is not the sole criterion
Production of complex software needing real-time cooperation
Regular visits to the distant team to monitor performance

Highest potential savings
Infrequent site visits
Simple software design and development
Routine, transactional IT duties like management and assistance.
Minimalist real-time cooperation
projects needing round-the-clock assistance
4. Conclusion
In today's economic environment, outsourcing professional developers to an offshore software development company would be a shrewd strategic choice for any company seeking to grow and reap long-term rewards.
Building an in-house development team or outsourcing your project to a foreign business has downsides. Nonetheless, the advantages of collaborating with offshore software development businesses would have a favorable impact on spending prices, productivity, and the ability to expand your organization. Their skills, experience, and specialty in technology would guarantee that your project employs the newest and most popular technologies.
In addition, you may focus on your main business while your offshore software development partner optimizes the technical components.