With time, every industry is moving towards digitalization and the banking sector is one such major industry that strives to adopt modern approaches and integrate digital technologies to have digitized processes for the customers. Though this is a complex approach, the use of modern technologies can make it easy for any bank to transfer its legacy system to digital channels. And for this, proper digital strategies must be applied which can be carried out by financial software development companies. The experts from fintech app development companies can help financial institutions to have a complete digital transformation in banking.
To learn about it, see which technologies can be used, and what are the pros & cons of digital transformation in the banking sector, let's go through this blog.
1. What is Digital Transformation in Banking?
Digital transformation is a process where modern technology integrates with areas of the bank, helps in delivering good value to customers, and optimizes financial operations. And this is possible because with time the use of technology has entered the banking sector in all ways. Digital transformation has come with rigorous innovation in the financial world and this is why leading banks and financial institutes are adopting it. It also enables the banks to offer unique features to the users through their digital channels which can lead to customer acquisition.
This means that digital banking transformation or the adoption of new technologies and approaches has changed the banking sector completely. Now banks can offer mobile services to clients. They can understand customers' behavior and offer strategies accordingly. And for this, technologies like AI, AR/VR, Cloud Computing, Blockchain, and more can be used.
2. Examples of Digital Transformation in Banking
Here are a few examples of digital banking transformation in banking,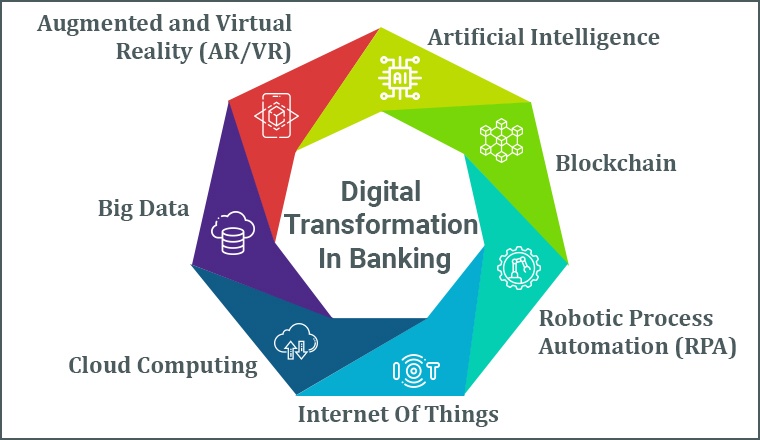 2.1 Artificial Intelligence
Artificial Intelligence (AI) is a technology that is changing the entire banking sector. There are many different benefits that AI comes with which include low cost and more revenue because of multiple channels. With the help of AI technology, modern banks can improve their processes, speed, efficiency, and accuracy. As per a survey by Business Insider Intelligence, the average cost saved by banks because of AI implementation is about to reach 447 billion dollars by the year 2023.
Artificial Intelligence-powered tools can be used by the banks to handle extensive data histories and it also supports decision-making which results in enhancing the client's experience. Basically, the benefits of AI in banks are widespread such as customer experience, digital engagement with clients, reaching back-office operations, product delivery, compliance, marketing, risk management, and more.
Artificial Intelligence is one such technology that has digital capabilities that can streamline all banking operations and processes. Besides, if it is integrated with other modern technologies like voice interface, big data, or RPA, it can help in providing effective decisions and a better approach to risk management.
2.2 Blockchain
Blockchain is one of the most popular technologies in the market. It is a distributed ledger that works in a decentralized database manner and also enables the developers to offer services that can protect the customer's financial data from real-time transactions.
Blockchain is decentralized in nature and is an immutable chain that saves all the essential data of the blocks. It doesn't allow any sort of tampering in the data and ensures high security & integrity. This is why it is the best technology for any bank or financial institution that is going on a digital transformation journey. Besides this, blockchain has the capability to resolve any issues like cyber-attack and fraud detection. It also helps the banking organizations to remove third parties like the credit and loan systems. This makes borrowing money and reducing interest rates safer. It promotes transparency for every bank or credit union.
Basically, blockchain is a distributed ledger technology that enables developers to create systems that can streamline all the banking operations and automates the process with the help of digital or smart contracts. Banks use blockchain technology to carry out various operations like fraud reduction, inter-bank transfers, KYC processes, cross-border payments, lending, and more. This proves that the use of blockchain technology can help banks in enhancing their remittance, contactless payments, and traceability goals.
2.3 Robotic Process Automation (RPA)
The banking industry prefers to use intelligent automation as it helps in driving efficiency, improves customer satisfaction, and eliminates the chances of reputation. The technology that can offer all these things is known as robotic process automation (RPA). With the help of robotic process automation, banks can start using customer services like bots. Besides, the banks don't even have to worry about the low-priority questions that can be asked by customers. Similarly, it helps in saving a lot of time that goes behind dealing with customers' high-priority concerns.
Basically, robotic process automation is a technology that can easily help banks in improving not only productivity or data analysis but also in reducing operational costs and errors. It also reads customer behavior and enables all the users to make a quick decision for their credit card application with RPA without any human intervention in the process.
2.4 Internet of Things
The Internet of Things is a very popular technology that connects devices of any network to provide data-driven insights for the future. It has gained popularity in banking services because it enables retail banks to have consumer-facing capabilities and internal infrastructure. IoT is a technology that covers various banking solutions and some of them are-
Smart Collaterals
IoT technology helps banks to handle customers' mortgaged assets like machinery, and cars, and help them monitor everything. Besides this, it also enables the banks to issue customer loans immediately and then the banking staff can monitor the collateral status using applications or software in real-time without taking physical custody. Basically, banks can work remotely to handle the loans and can smartly manage the collateral.
Wearable Payments
Another thing that IoT has made popular in the market is wearables. Wearables include smart rings, watches, and more. These things help in enhancing the retail banking experience. For instance, if the user has a smartwatch, it can be added to the style statement, and later it can be helpful to transfer money or make any sort of payment.
Basically, with the help of IoT, wearable devices are able to offer an entirely new online banking experience to customers and banks. Customers can communicate with the banks directly through smartwatches. The concept of smart glasses has also emerged which is being adopted by some financial institutions. Smart glasses can help banks to process customer information. This proves that wearables with IoT support have impacted the banking industry completely and have given it the potential to organize everything digitally without any hassle.
2.5 Cloud Computing
Another popular technology that is the reason behind digital transformation in the baking sector is cloud computing. The implementation of cloud computing has helped banks in enhancing their performances and scale-up services. It came with a concept called pay-as-you-go. This facility makes it easier for businesses or individual clients to pay for the cloud services that they have used. This is something the financial institutions can benefit from. Banks use cloud computing which helps them to promote wallet payments, online payments, and digital money transfers. Basically, with the help of cloud-based services, the financial services industry can easily decrease data acquisition and storage costs and this is possible through saving on operating expenditure (OPEX) and capital expenditure (CAPEX).
This means that cloud computing is a technology that has helped banks to carry out their business operations with ease and has also offered LiveBank for that. It is a virtual branch banking platform that has partnered with Microsoft. The aim of LiveBAnk is to offer easy communication and improve collaboration with customers.
2.6 Big Data
Data is the most important thing in any business organization. Companies gather customer data and evaluate it with the help of a technological concept called Big Data. The most use of Big Data is done by large financial institutions because they have access to a large amount of data that might not be currently used but is important. And by each passing day, the data in the banking landscape increases. In such situations, advanced analytics helps banks to create new business models to identify correlations from the data, analyze the time series, and recognize the trends from the client's contact details.
This benefits fintech companies as they get access to clients' data which they optimize to offer the best customer experience. Besides, the knowledge of customers' likes or dislikes and their feedback can help banks to come up with suitable services which can offer customer satisfaction.
2.7 Augmented and Virtual Reality (AR/VR)
The last set of technologies in our list of digital transformation efforts is AR/VR. Augmented and Virtual Reality are the two most popular technologies that help customers of any business models to enhance their experiences. The most use of this technology is done by the banking industry. AR / VR technologies help banks to offer complete autonomy to customers. This means that clients can execute the transactions from their homes. For instance, the Commonwealth Bank of Australia offers the facility of buying or selling a home through digital banking. It also offers bank information like recent sales, current listings, and the price budget.
Basically, with the emergence of AR/VR, virtual banks are gaining popularity because of the artificial ambiance they have created to connect with customers. This virtual facility enables banks to offer digital services to clients that can be transparent and easy to use. Using these technologies for digital transformation in banking can be costly. It includes various services like automation of business processes, customer management, newer payment methods, and more. So, the financial institutions that accept these technologies have to be ready for major expenses at first but later on they can benefit from it.
3. Advantages of Digital Transformation in Banking
Some of the major benefits of digital transformation strategy in banking industry are-
3.1 Convenience
With the help of technology, everyone can access their bank accounts from their devices. The only thing required to do so is a proper Internet connection. These banking apps have brought more customer satisfaction by helping users to constantly track their banking details like account balance, transactions, and more.
3.2 Improved Security
Technologies like blockchain, AI, and IoT enables the banks to safeguard their important information by offering data encryption approaches. That can save banks from both external and internal leaks of data to frauds. This eventually helps in increasing transaction safety.
3.3 24/7 Service
Online banking services come with a 24/7 concept which means that users can perform any type of banking services at any time through their mobile devices. They don't need to stand in lines to get their payments done or deposit money or anything. This is the biggest advantage that comes with digital banking.
3.4 Time-Saving
Online banking is a very time-saving concept. The users can access their accounts from anywhere and at any time. They don't need to waste their time by physically visiting the banks. This is highly convenient for the users.
3.5 Automated Transfers
Through digital solutions, unlimited automated transfers are possible. This means that the n-number of payroll deposits can be accepted with no additional fees for the services.
3.6 Customization
One of the most beneficial things that online banking can offer is customization. Generally, customers don't like using standard methods and offer things that they might not require. Therefore, with the help of technologies like IoT and AI, banks can read the customer's minds and offer them a customized approach. And this eventually increase the customer experience. For this, banks can use software with the right data analytics and data mining approaches. That can automatically offer personalized processes to the customers.
4. Disadvantages of Digital Transformation in Banking
Some of the disadvantages of digital transformation are –
4.1 Security Issues
Sometimes there might be some security issues with online banking systems and this might lead to data theft or any other type of fraud. Financial institutions can use sophisticated software that can help in protecting customer data from phishing, scammers, and hacker attacks.
4.2 Requirements for Hardware and Personnel
Digital technologies require professionals to implement them in the firm effectively. Basically, banks would have to hire techies who can handle the software and hardware of the firm and keep them updated after transferring the data from legacy systems to modern tools.
4.3 High costs
The use of modern technologies can be very costly as it requires high maintenance, the best specialists, and more.
5. Conclusion
As seen in this blog, accelerating digital transformation in banking is a very important concept as it enables the banking sector to offer the best services to its clients, improve the level of customer satisfaction, and stand out in the competitive market. For this, various modern technologies like artificial intelligence and machine learning, data analytics, blockchain, and AR/VR, can be used which might be a bit expensive in some measures.