The emerging world of technology has brought a new world and several opportunities for us to work. Tim O'Reilly said, "What new technology does is create new opportunities to do a job that customers want."
In the same way, the software development market is soaring high because of the impeccable effect of technology on each domain. It is like Daniel Bell depicted in his words, "Technology like art is a soaring exercise of the human imagination." 
There was a time when the use of the computer was just for gathering information or research, but nowadays it has become the largest business hub from browsing websites to booking a restaurant table all over the world.
Mobile applications and software have become an essential part of our lives, it's like imagination became reality, and that happens all thanks to dedicated software developers. In this blog, we are going to discuss how we can hire dedicated software developers who will help you to develop your business applications.
1. Introduction
Dedicated developers are web magicians, they create incredible applications that make our life easier, and for businesses, it will help them to improve their business operation with a significant change.
So, with the help of the best developers, you can make your business one of the best in the market and get customers all across the world.
However, all these kinds of software or application development is possible with proficient dedicated developers, so the crux of the matter is a lot of business associates are not aware of how to hire dedicated developers.
But fret not, here we are for you to help you to figure out how to hire a dedicated developer with the vital aspect. Let's dive in!
2. Who Are Dedicated Developers?
The task of building an application or software development requires diverse skills and expertise in various development domains that you will acquire through proficient software developers' experience and expertise.
Dedicated developers create a robust strategy as per your business requirements using the latest technologies and methodologies in the market.
They assist businesses to maintain their work most efficiently. Also, hiring dedicated programmers is one of the best prospects to develop your business website or applications with proficiency.
Hired dedicated developers will help you to concentrate on the core activities of your business while they handle the software part in their working hours.
Why Dedicated Development Team Model?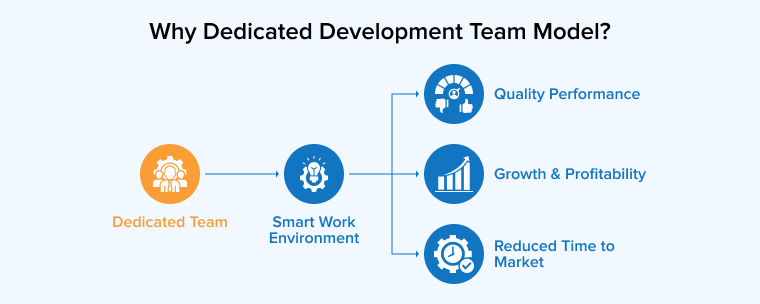 A dedicated team is a business model that leads to an arrangement between the customer and service provider when the company renders software development experts to the customer on extended-term data. These experts are determined according to the needs of the customer for their knowledge and skill sets.
The customer may choose to lead the team from their side or to allow the service provider's design director to organize the connection process. The team regularly operates from the services provider agency.
The dedicated team model has a very easy and simple pricing system: there are periodic payments based upon the team extent. The amount comprises members' salaries + service provider's expense, which covers central costs.
Dedicated developers are extremely fitting when the range of the project could not be rigidly fixed and conditions can be modified throughout the development method. The main goal of this model is to choose a team that will pay for the lack of required expertise and will effortlessly work as your individual.
Also Read: TOP 8 BENEFITS OF A DEDICATED DEVELOPMENT TEAM MODEL
Benefits of the Dedicated Team model:
It has an expected and limited budget
Because the range is not rigidly fixed, questions can be modified at any time
Complete authority over the control of the team
Dedicated team members have a broad knowledge of the client's project and company purposes
Continuous interaction with the team within everyday contact with the execution of web tools such as skype, Asana, Trello, and Basecamp
The team is firm and completely dedicated to the appropriate client
Alex Valadzko explained differences among in-house, freelancer and dedicated developers well in this article.
3. Why Does Your Business Need Dedicated Developers?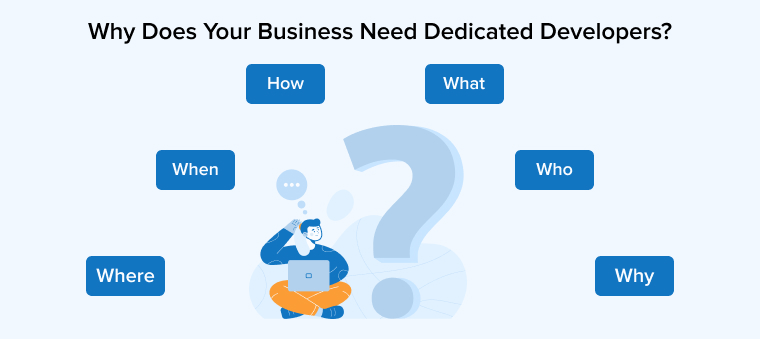 Every business requires dedicated developers to manage their business; they take care of the project from development to implementation.
For business, the main elements have always been the cost and quality of the product, if you hire dedicated developers, then the chances of software collapsing are high, however with the right developers you can get the best quality at a moderate cost.
While interviewing them, you can check their skills and methodologies to work on the project.
They comprehend your requirements and have an in-depth perception of the business, the time constraints, along with an affordable budget, which helps to make the right well-informed decision.
Also, hiring dedicated developers for business means eliminating the expenses of hiring, preparation, and infrastructure. With dedicated developers, you just need to outline your idea and vision to them. They will work on it and make it real.
4. What does a Dedicated Software Development Team Offer?
A dedicated team comprises a bunch of dedicated developers, who work together on a project and render their services exclusively as per the project requirements.
Once you hire a dedicated developers team, they take care of mundane problems such as setting up a special training class as new technology will be introduced in the market.
Your enterprise doesn't have to be bothered with it, the developers will take care of that factor, some additional benefits that a dedicated developer offers are added below:
Offshore dedicated developers help businesses to develop their customized business software.
They focus on technology and innovation as their core activity process
Modernizing products as per user convenience
Each member offers their service with comprehensive knowledge and experience in their domain
5. How to Manage Dedicated Team Developers?
Now. you know about the dedicated developers, why they are necessary for business, or what they offer, let's start understanding how to manage them before diving deeper into how to hire dedicated developers.
The first thing first, the complexity of handling a dedicated developers team is not a piece of cake, but it is essential as the management of dedicated software developers directly impacts your business.
To manage them you have to be involved with the project and have a profound observation throughout the whole project. If there is even a slight chance of malfunction in the project you can cancel it and demand to work on it once again.
Throughout the development process, you need to be sure your enterprise needs to be careful of the several pitfalls and challenges that will come across.
While managing an entire team, always assign one software developer one bug to fix, and if there arises another at that time, assign it to someone else, in this way your work will be faster and more accurate.
6. How to Hire Dedicated Developers?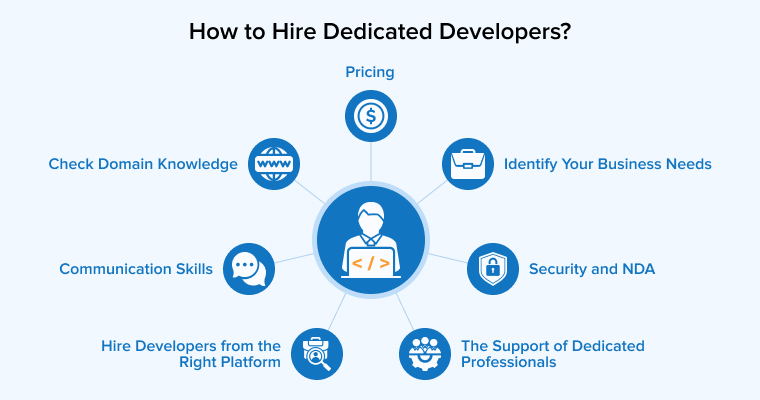 Outsourcing company renders services to the full-time dedicated development team, providing access to extremely skilled developers who start working on your project at the time.
However, the concern is how to hire dedicated programmers and where to start. Well for the first answer, we have listed down 8 points that you should take into consideration during the interview of dedicated developers.
And for the second question, let's say you can start from Google, wherewith the high volume keywords you will get the list of software companies.
Also, to hire them, you can put ads in those applications that help you recruit the right candidate having knowledge of the necessary programming languages.
Though, before hiring a developer or development team you need to know how to hire them.
6.1 Identify Your Business Needs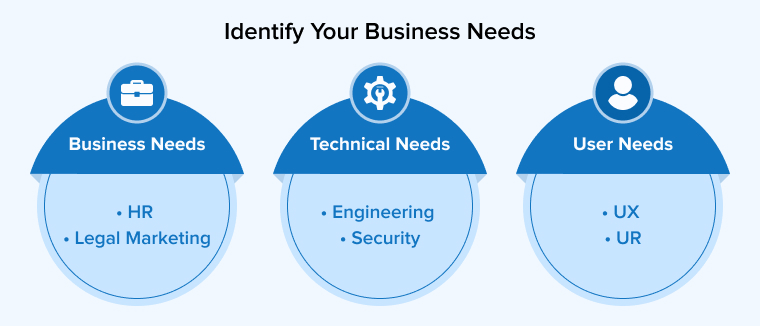 Before you hire a dedicated team, identify your business requirements. Objectifying your business needs will fast forward the hiring process and development process for the dedicated developers.
They won't stick with the problem where they will be confused with the outcome of the product. Your goal helps them to anticipate their moves to design the software, which increases the revenue — The Ultimate Purpose of Business.
A clear outline of your project idea will let you know the view of your profitability of new revenue channels and easily increase the efficiency to maximize level.
However, to present your goals and requirements, you need to dig up some data, technologies, and methodologies with the help of experts, and then you could proceed further to hire the developers.
6.2 Hire Dedicated Developers from the Right Platform
Now you have determined your business goals, the next step you need in regards to hiring dedicated professionals is to find them. So, how will you hire trustable and reliable developers among millions who will be suitable for your project?
The first name in your mind will be Google, though relying on Google reviews and results only might not be a good choice, it will be better for you to trust some other platforms such as:
Other freelance platforms
In these platforms, you need to explore the services that go along with your goals and objectives. To do that you need to narrow down your search list till you find a reliable dedicated development team for your project.
Let's explore our options, where you will get the best team of experienced dedicated developers. 

Search on Google: The first and foremost choice of every user is Google and it is a great place, where you will find and pick the right dedicated development team.
Find Remote Freelancers: These types of remote talent you will easily find in the freelancing platforms. They work remotely and dedicatedly either for your whole project or any specific part.
Through Software Development Company: The third place you will find the whole dedicated development team instead of an individual experienced developer is through a software service provider development company. They provide you with full-time development with a dedicated team of developers as per your requirement.
6.3 Check Domain Knowledge
Now you know where to find a dedicated development team, so we will start with recognizing their domain knowledge and their skill set, whoever you hire for your project must be proficient in the specific development domain.
Their expertise in the latest technologies, methodologies, tools, and programming languages will be the essential elements that will build an exceptional product in the market.
To know the knowledge of dedicated team members, you must go through the software development company's site and case studies and if it's an individual dedicated developer, then ask your project managers for their portfolio.
6.4 Communication Skills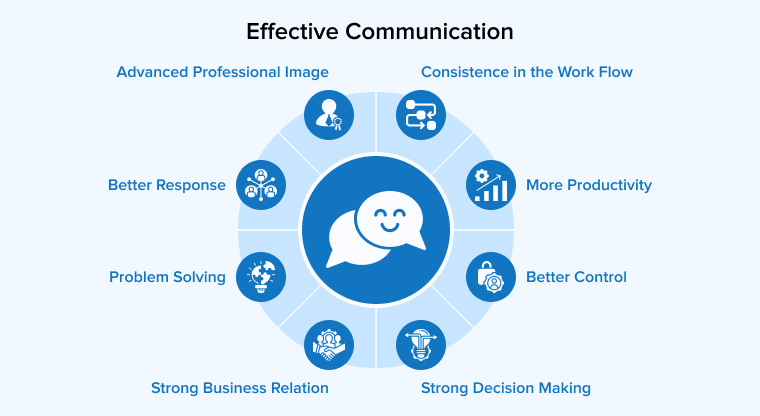 Communication is the key to a successful business, when you hire a dedicated team, communication with them and among each dedicated development team member must be your priority.
You need to keep in constant communication with the dedicated team members and project manager so you can be in the loop with the whole development process, from time to time, you can give your input and feedback if there are any type of changes you want in your project.
6.5 The Support of Dedicated Professionals
Another factor that you need to take care of is apprehending what kind of support the dedicated developers or software company provides.
Whether your hired dedicated development team is responsive to your development-related questions and issues or not, they should be attentive to your project thoroughly.
Because the recruited software service provider is failing to support you through the project then you have selected the wrong one.
So, ensure that the dedicated developer team you hire is available on pre-agreed terms through project management platforms.
6.6 Security and NDA to Consider while Hiring Dedicated Developers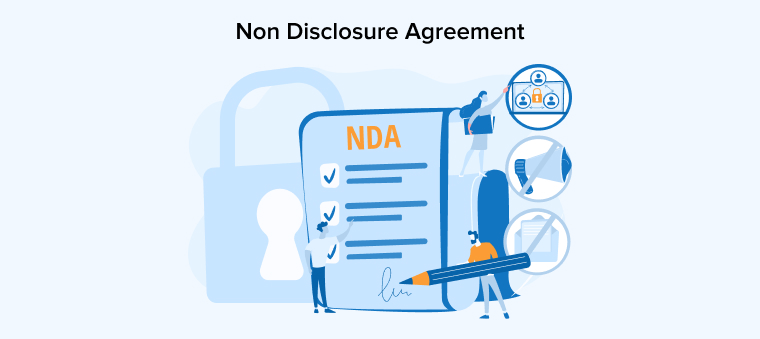 When you hand over your project to a software service provider, make sure that the outsourcing company is bound legally with your enterprise.
Legal contracts help you to exercise your rights over the project when someone else might try to steal your work. However, there are three types of legal agreements that you could deal with software service providers.
Master Services Agreement: The first one is MSA, it has specified payment terms and resolving a conflict and the product's rights. Sometimes when you hire a dedicated development team, there is the chance that they might claim that the project doesn't belong to you, that time legal documents like MSA are best for you.
Non-Disclosure Agreement: NDA is the best agreement when you share your confidential documents with your dedicated team. Through NDA, they are legally prohibited to share your info. In this way, they will use the information for the project only.
Statement of Work: This legal contract will help you to get your work done within a specified period and of good quality. It ensures you stay safe and receive value for your money.
6.7 Pricing
The last factor that concerns outsourcing dedicated developers more than anything is the pricing. To build an app or software you need to first finalize your budget.
Estimate the cost of hiring dedicated teams. And to get a reasonable deal you need to outsource the development company from those countries that provide the best quality work at a moderate cost.
With different pricing models, such as:
Fixed Price Model: The project cost will be fixed in the prior, which is a good idea, in this way the project management will be good and the marketing process will bring more benefits to the website.
Cost-plus Outsourcing Model: The Cost Plus model includes the cost and a margin as per the project needs of web development and additional specifications of the software.
Time and Material Model: The last one is the time & material model, it completely depends on the time, effort, and material used by the developers.
Now, you know the three price models for your project, so pick one of them as per your app development, analyze the pros and cons of each model then decide which one is best for your project.
The average hourly price varies from country to country. Here's what TRACY PHILLIPS from Code Sumit concluded in her research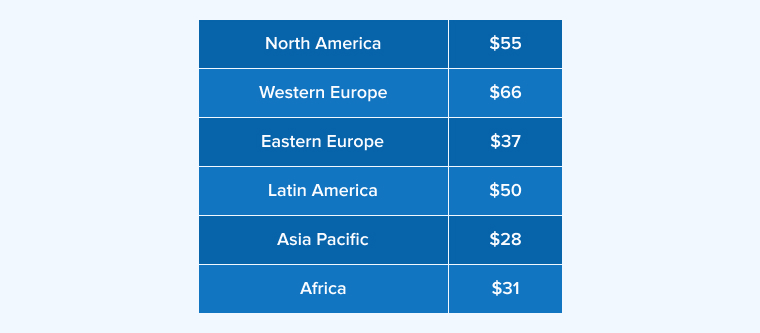 7. Final Thoughts
Hiring a dedicated team, who has the capability to achieve all of your mobile app and web app development needs and deliver the software solutions as per estimated time and save money is an incredible deal for your business.
However, with no right guidance, the possibility of not recruiting the suitable one is high. So, before you hire a dedicated development team, follow through with these tips. And with continuous collaboration with your developers, you will ace the race in the software market.