Outsourcing has become a major hit, especially after the worldwide pandemic. No matter how many miles you stay away from your tech partner, you are bound to receive desirable results. Even when you outsource the development process, it seems as seamless as the one with an in-house team. In the software development space, two concepts have been popping up recently – Offshore software development and staff augmentation.
It doesn't matter whether you are running a multinational company or have just commenced a company with a handful of employees, getting more hands on deck through staff augmentation or outsourcing is extremely important, especially in today's competitive times. The following post not just emphasizes offshore IT staff augmentation vs offshoring but also covers both concepts in detail including why one must hire reliable offshore software developers or augmented professionals.
To begin with, According to Gartner, more than 80% of logistics business leaders plan to increase their offshore outsourcing budget by 5% by 2020. With an increasing shortage of global talent, staff augmentation turns out to be one of the most convenient methods of closing the productivity deficit.
1. What is IT Staff Augmentation?
Popularly known as the future of hiring, staff augmentation was introduced to fill skill gaps in a project using talented remote workers. Slowly and steadily, the new boy in town became a buzzword because it enabled different companies to keep tabs on their projects and it also gave control to project managers even if they are hiring third-party services for the same.
Imagine your organization is asked to develop software for a reputable firm. And since it's quite important, you need to assemble a team of skilled and experienced developers. Unfortunately, you don't have the right local team or expertise to carry out such tasks precisely for you. And the existing resources are busy with other important tasks. What to do? Hire someone who can give a quick boost to your existing team. Plus, do not forget to create a budget in advance. Here's when you need staff augmentation services.
With the help of a staff augmentation model, it is possible to pick a dedicated development team of the best experts in no time for developing quality software. There is no limitation! The best part here is that your HR team doesn't need to check out or dig in deep for the recruitment procedures. See this is temporary so just choose the expert on the basis of the current needs and requirements. Overall, Staff Augmentation comes without a long-term commitment.
2. How is Staff Augmentation Beneficial?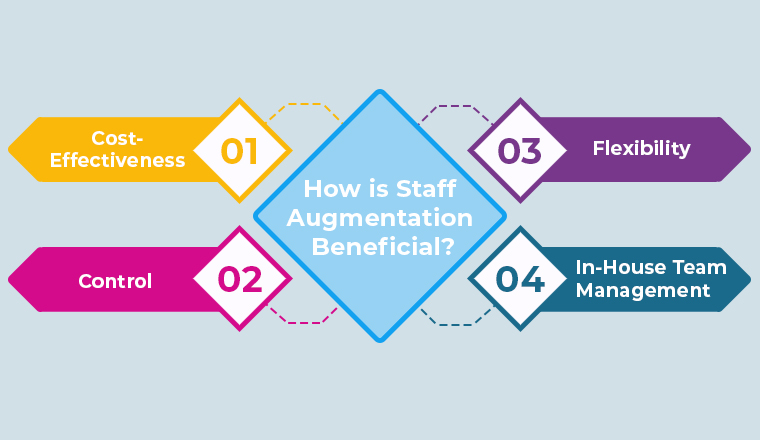 So now the question is why not hire new employees for your business? Further, I would like to mention certain benefits offered by the staff augmentation process.
2.1 Cost-Effectiveness
An adequate amount of cost is reduced. Also, would you ever like to pay for the food you haven't eaten? Certainly not! Then how can you pay for the services you haven't used? Staff augmentation is all about paying for a specific skill set for the time being. Staff augmentation services are more like the use and pay services.
2.2 Control
In IT Staff Augmentation, you get control over who is doing what work. In the literal sense, you can keep a keen eye on everyone around for example, who are the ones working on the core tasks and who are eligible for checking out minor details, etc. Here you do get the liberty of exchanging programmers. Project managers should clarify company policies to the staff augmentation workers before starting the project to avoid problems.
2.3 Flexibility
Another benefit offered by staff augmentation is high-end flexibility. In simple words, IT professionals can be added when you require them to complete projects or reduced when you don't. Moreover, nobody is interested in getting into all the mess of hiring and firing in-house employees due to any vague reason. Here flexibility is endless and this is what makes staff augmentation a cut above.
2.4 In-House Team Management
As mentioned earlier, staff augmentation is meant to fill in-house gaps with external talent. In addition, you no longer have to worry about your internal staff's insecurities of getting fired because this setting is temporary, chosen to work for short-term projects. The additional tech talent is meant to ease worry for them and not the otherwise.
3. What is Offshore Software Development?
As the name implies, offshore software development literally means seeking assistance from other teams in a different location. Whether you are building an app, a website, or any XYZ kind of digital product, soon you will get to know that all this is pretty much daunting. Getting an idea and transforming it into reality requires appropriate tech assistance. After the COVID massive hit, offshore and outsourcing has gained widespread popularity. Fortunately, we have the entire world to choose from especially when looking for a software development partner.
What can be offered by an offshore development company? Right from designing the product to developing, coding, testing, SaaS development, intranet solutions, eCommerce and project management, software support and maintenance, mobile application development, website design and development, and so forth.
In all, with offshore software development, you can focus more on your core business or one project at a time. Certain unnecessary tasks can be avoided such as hiring new employees and terminating the ones that are of no use. However, this is not it! Conducting Offshore software development comes with its own set of benefits to the project.
4. Benefits of Hiring an Offshore Team
4.1 Talent Access
Unlike hiring in-house programmers, here your horizon gets widened. You get to choose professionals from all across the globe. No kidding! Some of the top offshore software development destinations worth considering include Asia, Eastern Europe, Latin America, Australia, and Africa. Here you won't just find extraordinary programmers but ones at a reasonable price.
Also, there is no denying the fact that you get full control over your business. In fact, you can also consider outsourcing bits and pieces of your large project and then plug in later on.
4.2 Core Business Focus
By hiring an offshore development team, you get to focus on your core business functionalities. Most of the business owners are nontechies due to which they are unable to perform or conduct such development-based tasks.
Hiring a software development outsourcing company means you are free from the responsibility of recruiting, hiring, and training new members every time. Since they have a team of professionals who are well-trained and well-experienced so you don't have to worry about anything else.
4.3 Scalability
Enhanced scalability is another advantage offered by the offshore development team. Scalability in this regard refers to you having the decision-making power. You can decide whether to hire developers for a short period of time or for a long period, whether you need a full team or a few individual programmers who can work closely with your existing employees.
5. IT Staff Augmentation vs Offshore
Today gaining a competitive edge has become extremely important especially for businesses and enterprises worldwide. Catering to present and potential customers have become very difficult, especially for those who haven't leveraged cutting-edge tools and technologies. The situation has become like now or never. All you need is tech-savvy third-party assistance.
At present, you have two options – First, choose offshore development service providers (your extended team), or second, choose staff augmentation. Now we have reached the final stage where both the concepts are facing each other.
Since we have covered advantages offered by IT staff augmentation and offshore talent pool. It's time to consider the downsides of both concepts and see which one is preferable for your business objectives.
What are the cons of Staff Augmentation?
Augmented staff is not suitable for long-term complex projects or ongoing skills
Are you willing to compromise on the sustainability of the plans?
If your project involves in-depth research and contextual knowledge? This is not worth choosing.
What are the cons of an Offshore dedicated team of developers?
An offshore company is not advisable if there are time or cultural differences
Language barriers are a big No-No.
Different working habits
So, when is it a good idea to go for staff augmentation? See staff augmentation isn't for any type of company. It is advisable for small projects where you don't need heavy hardware equipment, an experienced team of developers, and QA experts.
So, when is it a good idea to go for project outsourcing? Now if you want to develop a complex software solution, try outsourcing software development services from a reputable company.
You can also use a hybrid model which ensures you can tweak various factors and can leverage the benefits of both as per your requirement.
6. Conclusion
So this is it! There is no clear winner here! The best answer is that it depends on the situation. In case you have any doubts or queries, feel free to mention that in the comment section below.