Businesses are fascinated by technologies and the changes that it brings to their company. It is that driving force that changes the outlook of their business. .NET as a technology has shaped the growth of multiple businesses by offering custom .NET development services and solutions. It's been around two decades since .NET has been introduced in the market, and its market value has grown unprecedentedly because of the advantages it offers. The .NET framework cost changes as the requirements get complex. Current statistics state that the .NET platform is among the top-ranked development frameworks among other custom software development frameworks.
But not many businesses have adopted ASP.NET core development for their businesses, but what makes them reluctant to adopt this technology ? Every enterprise may have their own reasons. Like some may face challenges in not knowing about the technology, cost or budget, or can be some other demarcations that don't allow businesses to develop apps using the .NET framework. But the most important one for every business is cost. This blog curated by TatvaSoft at every point will reveal brand new information about ASP .NET core development that will help businesses to choose the right framework for their business project. So, without any ado, let's get to know this technology and see what makes .NET development a most preferred framework?
1. Why Should You Choose .Net for Application Development?
Did you know that more than 35.1 percent of users from technology industries are using .NET. Core. For their business application development.- According to a survey performed recently in 2020
It wouldn't be incorrect to say that the .Net framework is one of the major development platforms that aids in the connection of systems, information, devices, and even people. It comes with programming guidelines, technologies, and development tools for .NET developers. The use of Internet technology makes it easier to create dynamic web portals. However, it is commonly chosen to design, create, manage, and direct robust, secure, and high-performing windows based applications.
The real reason for businesses to choose .NET development is because it offers convenience, and it is easier to develop software without much hassle. Some major inclination towards .NET technology occurs because of:
It saves time and effort – Allows .net full stack developers to reuse application blocks, reducing the amount of code they must write.
Helps you develop high-quality applications — Because the .Net patterns and frameworks have been tested and debugged, there is a reduced risk of mistakes during .Net web applications development.
Compatibility – Improves the security and flow of interoperability of -. Net-based applications..
Aligns with all types of scripting languages –.Net programs may run in any programming language that the .net developer knows.
Now that we know why businesses choose the .NET development framework, now we must know all the reasons for APS.NET cost and other application development concerns that arise during the development of .NET applications. Most of the time, businesses think that developing a .NET application will cost them hefty.
2. How Much Does It Cost to Build a .Net Application?
ASP.NET is quite handy when it comes to developing diverse online web applications, databases, and forms. This very efficient language is the first choice of many .NET web application developers. You may also use this platform to create a variety of mobile apps. The ASP.NET cost for website development is low, and it can quickly produce a stylish and efficient design for your website without any licensing costs.
There are two ways of looking at developing a .NET application, one way is to do it in house with the help of in-house skills and expertise. On the other hand, you can take help from experts in the market that are Microsoft certified .NET developers using .NET framework to get your desired product developed within a specific time. It certainly depends on what you want to get developed, whether a website or an application. The cost involved in setting up a dot net development application is substantially lower than the cost of developing a website. This is due to the fact that developing a .net application requires less time. However, the cost and time required to create a .net application may vary depending on the needs of the company.
Definitely the complexity and technology that the business wants for their company. The initial one may cost you from $2000-$5000. This is just an estimate, which might differ as you add more and more functionalities to the application. If you are building a full-fledged eCommerce application based on other new-edge functionalities. It may cost around $10,000-$25000.
As, these can be a broad range and a very common perception of costs, which may vary as per the requirements. However, there are a few factors that decide on which factors will be a game-change for .NET applications. Let's see each of the factors individually.
3. Factors Affecting the Cost of Developing a .Net Application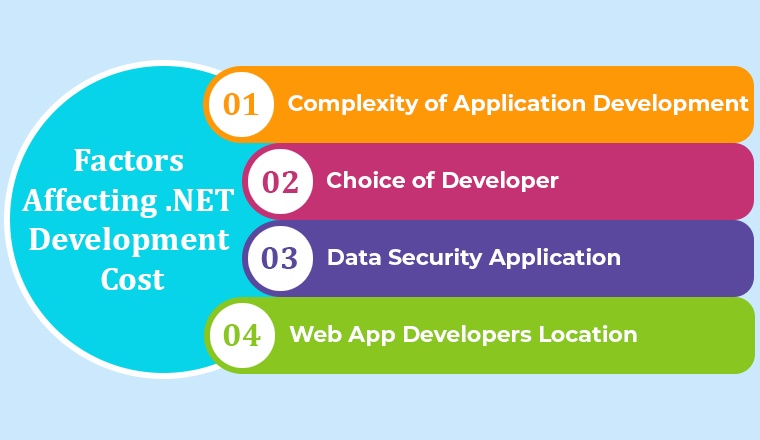 3.1 Complexity of Application Development
.NET is a complex technology to imply, but simpler to work with. It definitely demands professionals to work with, and their expert skills will bring out the best within your .NET application. The five factors that play a major role in the development process include app complexity, the knack of developers, security of data and the .NET development company's location
1. Easier and uncomplicated apps
Simpler apps include the development of one-pagers, landing sites, and typical web storefronts with a standard style and the bare essentials. Typically, they necessitate simple interactive forms with little information.
Cost can be around $3000 or more for a month and a specific set of the developer team
2. Medium apps
These types of less complicated .NET apps are highly scalable and mostly used by small-to-medium-sized businesses and e-commerce websites. They require a great number of interactive components to be incorporated, as well as a big volume of material.
Cost can be around $15000 or more for a month and a specific set of the developer team.
3. Complex apps
Exclusive websites for large-scale enterprises are included in this category. They may include one-of-a-kind CMSs, a plethora of special features, huge databases, and a plethora of material.
Cost can be around $50,000 or more for a month and specific set of developer team
3.2 Choice of Developer
Large and established firms do have a luxurious office and a lengthy track record of dealing with high-value clients. This would often charge them some extra money for developing multiple applications of their choice.The Medium-sized businesses are another type of company. These firms charge less than larger firms but more than tiny independent developers.
Any size of business, if you have a complex plan in mind and want to develop an app out of it. It will affect your budget and pre-planned cost plans. From the above points, it is also clear from the previous point that complexity also plays an important part in choosing your dot net developer. Their skills will define their price and plus your specific requirements. This will decide the level of developers you need,- it can be .NET developers with initial level experience or with medium experience or programmers with a high level of experience.
Thus,if you want to save even more money, instead of using independent freelancers, use software development companies. However, you must be aware that hiring high-quality, independent contractors for your dot net project development may be an expensive affair, and you may find yourself seeking someone else to do other needed tasks.
3.3 Data Security Application
Businesses from different domains have different needs attached to normal app development. Specific industries like healthcare, banking and finance sector are extra cautious when it comes to developing secure applications. So, when you choose a developer, you must see they have experience in developing secure mobile apps. Ensuring data security is critical for the sturdiness of the entire bespoke mobile app development process. Security should never be taken for granted. So, if your software is ready to launch, but you haven't addressed the security issues, don't go any further. Data security is the first and foremost issue that should be addressed and resolved.
3.4 Web App Developers Location
The location of the .NET app development company or .NET developers plays a huge role in determining the cost of your project. Because if your developer is located at a distant place where travelling frequently is not possible. But technology has advanced so much now, that you can use a monitor and get regular updates, so location should never be a concern.
This is a labour-intensive process; hence, it is better to develop in a developing country like India instead of the company based in developed countries. This will help you save a large amount if you choose a web app development firm in India over any company in the United States.
4. Conclusion
At the end of the blog post, we hope to give you insights into every section that is an eyeopener for you and can guide you to make the best decision when you want to go for custom software development using the .NET platform. From our experience as a leading .NET development company, we ask businesses to cut down everything and come up with minimal product prices while using the latest Microsoft technologies. Or look for alternative .NET development services that fit your budget, that will provide you developers of the initial level and will solve the same tasks in your estimated budget. But if you aim for high-quality and no rework then you must harness the expertise of specialists from a .NET development company which will save over the total cost of the project and improve your business efficiency.